University of Illinois researchers have been investigating ways that mobile devices could provide health diagnostic tests and other measurements traditionally performed in the laboratory. The team has shown that their previously developed Lab-in-a-Smartphone sensor accurately measures optical absorption spectra of colored liquids or the optically scattered spectra of solid objects.
The compact camera, which performs optical spectroscopy, analyzes liquid- or paper-based medical tests in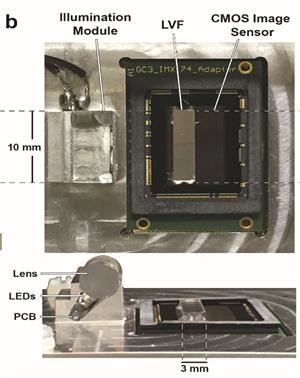 The compact spectrometer for the smartphone science camera comprised of an image sensor chip with a linear variable filter attached over the surface. Source: University of Illinoiswhich the end result is a material that changes from one color to another in the presence of a specific analyte.
The design uses inexpensive components and the same kind of LEDs incorporated for flash illumination in phones. The addition of a special component attached on top of a conventional smartphone image sensor enables measurement of light absorption of liquids and the scattering spectrum of solids. Recent research demonstrated how a smartphone could be placed directly over a cartridge to measure the specific color of the liquid inside. Findings could then be sent electronically to a physician, who could make a diagnosis and suggest a remedy without a patient needing to be present.
"To make it work, smartphone manufacturers would add a camera for science purposes," said researcher Brian Cunningham. "The pixels of the additional image sensor would have a linear variable filter glued on top of it that transforms the camera into a spectrometer. Since the component would be an integral part of the phone, the information generated by it can be seamlessly integrated with other information about the patient, and the test being performed, while interacting with a cloud-based smart service system that provides immediate actionable feedback."