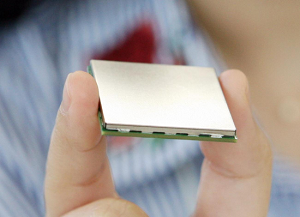 Source: LG Innotek
LG Innotek (Seoul, South Korea) has announced development of the world's first 'Second Generation V2X Full Module' geared for connected cars and autonomous vehicles.
The device offers wireless communication ability sufficient for commercialization and can be integrated into any part of a vehicle thanks to its excellent durability and minimal size. The module is smaller than a credit card, with dimensions of 40 mm x 35 mm x 4 mm.
The 'Vehicle To Everything' technology denotes a system that enables the sharing of information such as traffic conditions between vehicles, vehicle and infrastructure or vehicle and pedestrians. The core element providing all the communication functions is the V2X module that combines the HCI module and Hardware Security Module (HSM) for controlling the communication protocol and the Application Processor (AP) into one product.
Automotive manufacturers can now be relieved from the trouble of having to separately install different parts and undergo separate tests. The module has exceptional durability that enables it to survive temperatures as high as 105° C and operate normally, due to proprietary heat-proof design technology.
A sensitivity level of -94 dBm and transmission power of 23 dBm have been measured for a device with a communication speed of 6 Mbps. Even when the car is traveling at a high speed of 120 km/h, transmitting and receiving are performed without interruptions for as far as 1 km.