Lawrence, Massachusetts-based NxStage Medical has won U.S. Food & Drug Administration (FDA) clearance for its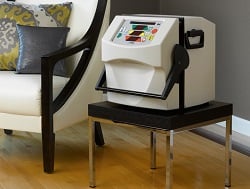 Source: NxStage MedicalSystem One for solo home hemodialysis during waking hours. This is the first such clearance that gives patients with end-stage renal disease a new level of independence from clinics and at-home caregivers.
The company received its first clearance for home hemodialysis from the FDA in 2005 and the first home nocturnal hemodialysis clearance in 2014. However, certain patients have not had access to this therapy option because System One's indication has required that a care partner be present when a patient performs home hemodialysis. This recently expanded directive provides both new and existing System One patients, trained to perform solo home hemodialysis, the freedom to dialyze at home without a care partner during waking hours.
NxStage will be working with its customers and partners to implement additional patient training for this new indication later this year and into 2018.
The company cautions that a trained and qualified patient may dialyze alone, without a care partner present (solo home hemodialysis), provided the patient and physician agree that solo home hemodialysis is appropriate. Certain risks associated with hemodialysis treatment are increased when performing solo home hemodialysis because no one is present to help the patient respond to health emergencies.