The development of neural devices has relied on metallic materials that are highly conductive but rigid and incompatible with neural tissue. Researchers from the University of Houston and Pennsylvania State University have turned to conducting polymers to better mimic biological tissue.
They devised a new method for the fabrication of biocompatible neural devices that allows more precise tuning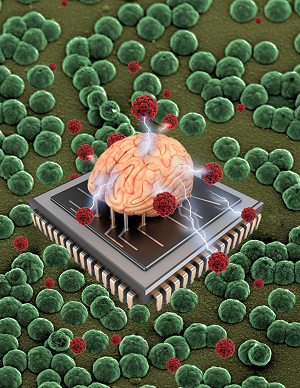 This image demonstrates conducting polymer microcups used for organic bioelectronics and drug delivery applications. Source: Milad Khorrami & Mohammad Reza Abidian, University of Houstonof the electrical performance of neural probes, along with improved properties for drug delivery. Conducting polymer microcups were produced on the surface of bioelectronics by means of electrojetting and electrodeposition methods. Electrospraying of monodisperse poly microspheres on gold substrates is followed by an electrochemical polymerization process.
The soft mechanical properties of the polymer microcups simulate those of biological structures, and their mixed electronic/ionic conductivity promotes efficient signal transduction. The researchers demonstrated that by varying the amount of electrical current and the length of deposition time, they can change the size, thickness and roughness, which are related to the electrical properties of the polymer.
The researchers also note that conducting polymer transparency allows the simultaneous use of optical analysis techniques.