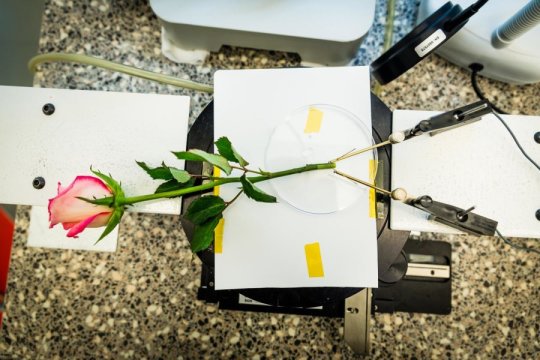 A supercapacitor rose from the Laboratory of Organic Electronics, Linköping University. Credit: Thor BalkhedA supercapacitor is a capacitor with an extraordinarily high capacity to store energy. They can achieve an outstanding energy storage capacity that is normally rated in farads (F), as opposed to the rating of normal capacitors typically done in terms of micro- or pico-farads. They consist of two metal plates coated with activated carbon. This is the traditional way of manufacturing capacitors.
A team of researchers at Linköping University in Sweden have developed a special material that when injected in the stem of a rose forms a polymer without any catalytic reaction. Once injected, the polymer expands inside the rose to create conducting "wires," not only in the stem but also in the leaves and petals. When a potential is applied to the rose the polymer threads become a supercapacitor.
"We have been able to charge the rose repeatedly, for hundreds of times without any loss on the performance of the device. The levels of energy storage we have achieved are of the same order of magnitude as those in supercapacitors. The plant can, without any form of optimization of the system, potentially power our ion pump, for example, and various types of sensors," says Eleni Stavrinidou, assistant professor at the Laboratory of Organic Electronics.
In a plant, the roots, stems, leaves and the circuitry to transport the plant fluid are analogous to the contacts, the wires, and other components of integrated electronic systems. Basically, plants have the bioelectronics platform in place. So it is not a big surprise to see that if the plant is injected with a conductive polymer, it can be converted it into an electronic circuit.
Possible uses of this research are the creation of autonomous energy systems integrated in plants to harvest the power from these plants to drive sensors and other devices. "This research is in a very early stage, and what the future will bring is an open question," Stavrinidou adds.
The results of the research were published February 27, 2017, in the Proceedings of the National Academy of Science.