Smartphones have become increasingly integrated into our lives. Whether it's checking out the menu of a restaurant, sending a work email or finding a ride from the airport to a hotel, the speed of your phone's data connection has a significant impact on daily life. To help mobile phone users make informed choices about which wireless carrier to use, a number of independent organizations release reports on mobile network performance.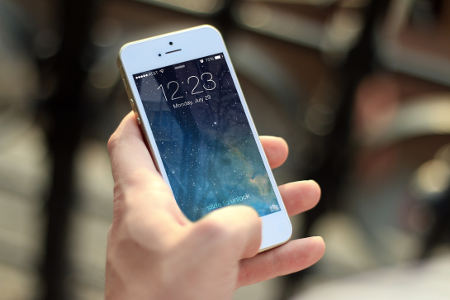 Source: Pexels
Verizon, AT&T, T-Mobile and Sprint are the four major carriers in the United States. There are many other cell service providers like Ting, Tracfone and MetroPCS, but almost all of them have contracts with the big four to use their network infrastructure for their own services. As a result, reports for the four main networks can provide a good estimate of third party performance, although sometimes these mobile virtual network providers (MVNO) are throttled by the main carrier, resulting in lower speeds than expected.
PCMag
PCMag tests mobile network performance of the four major wireless carriers. For their 2017 report on mobile network performance, PCMag performed network testing from May 1 - 23. Data was collected in 12 to 15 locations in each of the 30 cities included in the report as well as on the roads that connect them. A weighted average speed score was assigned to each of the carriers comprised of the following components: average download and upload speeds, download and upload speeds over a certain threshold, ping time and reliability. Verizon led the four with a score of 97, followed closely by T-Mobile at 96 and AT&T at 93. Sprint trailed behind with a score of 74.
PCMag reports actual download and upload speeds in their report on mobile network performance. They found that Verizon had the fastest maximum download speed at 215.7 Mbps, but a slower average download speed than AT&T, 31.1 vs 32.6 Mbps. AT&T had the fastest maximum upload speed of 64.7 Mbps followed by Verizon's 50 Mbps. Measured by average upload speed, T-Mobile won with a speed of 18.3 Mbps, compared to Verizon's 15.8 Mbps and AT&T's 12.4 Mbps.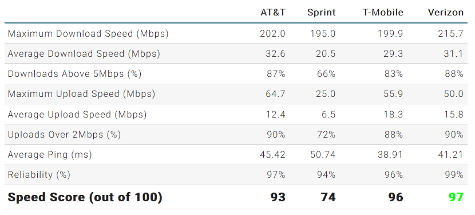 (Click to enlarge.) Source: PCMagOne illuminating part of the tests providing insight into smartphone user's real-world experience was the percentage of tests that exceeded a certain speed. For downloads, this speed was set at 5 Mbps, and for uploads the speed was 2 Mbps. This part of the test highlights the consistency of network speeds; speeds below these thresholds have a negative impact on user experience as they are readily discernible from faster speeds. Verizon had the best download speed threshold percentage with 88 percent of tests exceeding 5 Mbps. AT&T nearly matched Verizon at 87 percent, followed by T-Mobile at 83 percent. Tests of Sprint exceeded the threshold only 66 percent of the time, meaning one-third of the download tests completed at a speed of less than 5 Mbps.
Rootmetrics
Rootmetrics releases reports biannually on mobile network performance, including upload and download speed reliability. Rootmetrics follows a rigorous methodology for their network tests. Samples are collected using randomized spatial sampling techniques every day of the week during periods of peak usage and in high and low congestion conditions. Tests are performed with the same phones and apps consumers use completing similar activities like browsing the web, texting and checking email. Performance is tested across the United States along highways and in metropolitan and rural areas. In testing for the first half of 2017, Rootmetrics drove over 275,000 miles and performed over 4.6 million tests.
The data collected is compiled and processed through proprietary algorithms to assign scores that rank the performance and reliability of each carrier in smartphone tasks like data transfer, making calls and texting. In data performance, Rootmetrics ranks Verizon number one with a RootScore of 96.5, followed closely by AT&T at 95.5. T-Mobile comes in third at 93.2 and Sprint rounds up the pack at 86.6.
Speed Test Tools
Mobile phone users can determine the local network speeds of their own carrier by running free speed tests such as the one at Speedtest.net created by Ookla. Speed tests display various connection parameters, including download speed, upload speed and ping. Download and upload speeds represent the rates at which data is transferred from and to external servers. An HD Netflix stream needs around a 5 Mbps downlink and minimal uplink, while a Skype HD video call requires at least 1.2 Mbps in both directions. Ping is the time it takes for a reply to be received by the user's device in response to a query to the test server. This parameter is also known as latency, and represents the responsiveness of the connection.
A limitation of a speed test like Speedtest.net is that the test creates multiple connections to the server in an attempt to saturate the connection to establish its maximum speed capability. Many real-world services like Youtube, however, only allow one connection at a time, so on a congested connection the actual maximum speed might not match the result determined by the speed test.
Mobile 3G/4G connections are shared between multiple users connecting over single masts, some of which communicate with each other over microwave links. Congestion develops when too many users connected to the same mast are consuming too much data, or when the links between masts become overloaded.