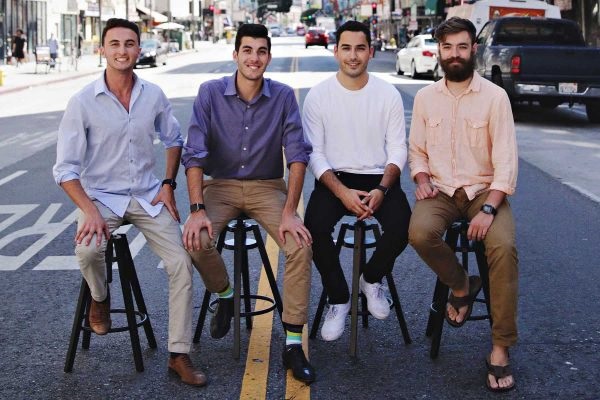 Makers of Mira: CEO Ben Taft, COO Matt Stern, CPO Montana Reed and CTO Evan Bovie. Source: Mira LabsThe Jimmy Iovine and Andre Young Academy at the University of Southern California was launched in 2014. Conceived as a collaborative environment to bring exceptional students together with visionary faculty and professional mentors, its mission is to nurture and develop original thought as a way of "empowering the next generation of disruptors to change the face of society."
That mission is starting to be realized.
The first startup to come out of the academy is Mira Labs, co-founded by USC undergraduates Matt Stern, Ben Taft and Montana Reed. Mira launched its first product this summer – an augmented reality headset dubbed 'Prism' that retails for $99. When an iPhone is strapped to the front of the device, it can stream content and bring hologram-like images into one's surroundings. There's also a "spectator" mode that allows friends without headsets to be involved in the action via smartphone.
The device debuted at Comic-Con in July, where the company took pre-orders. The current plan is to get Prism to developers in order to create content, followed by a roll-out to the consumer market by the holidays.
The academy is named for the co-founders of Beats Electronics – Jimmy Iovine, former chairman of IGA Records, and Andre Young, better known by his rapper alias, Dr. Dre. The idea for the program, which will add an M.S. component in 2017, came from the struggles Iovine and Young encountered in their search for Beats employees with multidisciplinary backgrounds. The program combines interests in business, technology and the arts with a cross-disciplinary curriculum.
Mira's co-founders built their first prototypes after winning the $10,000 Iovine and young prize, an academy pitch competition, in early 2016. They wanted to create an affordable augmented reality (AR) experience that didn't disconnect users completely from their current reality.
"In VR, there's a whole spectrum of devices but in AR, headsets were self-contained computers that were multiple thousand dollars," said Taft. "Then on the other side of the spectrum, you had these Pokemon Go style games on your phone… no one had figured out a middle market solution."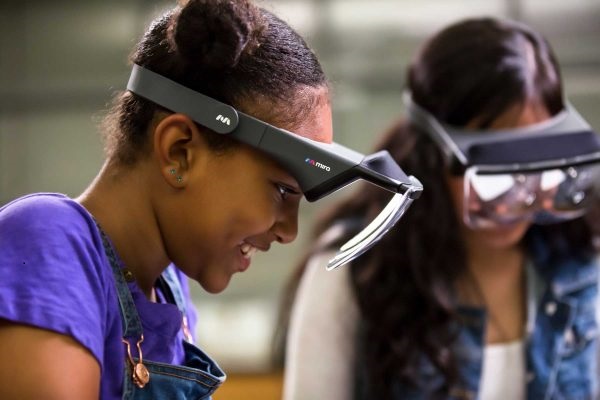 The curved lenses on Prism were originally designed from plastic fishbowls. Source: Myles Pettengill/Mira LabsPrototypes were built from old smartphone parts bought on Alibaba.com; the academy's 3D printer churned out dozens of headsets. The lenses, which needed to be curved and clear, proved more difficult. Reed even admits to almost setting his apartment on fire while trying to melt acrylic over a curved object. But a find on Amazon offered an alternative: The team bought up cheap fishbowls, cut out square lenses and hot-glued them to the 3D-printed prototypes.
It's an approach that jibes well with one of the academy's mottos: Be scrappy.
The next step came when the trio took a chartered flight to Finland for the Slush tech conference. On the 15-hour flight, sharing cabin space with venture capitalists, they started doing their first demos. "Pretty quickly we had a flock of people standing by our aisles. Flight attendants had to tell people to go back to their seats," Stern said.
Mira has since raised $1.5 million. There are now a dozen employees and a production line overseas.
While the initial application is entertainment – the startup is in talks with major film studios about possible content – they could venture into education and healthcare.
This story was adapted from the USC News article by Joanna Clay.