Industrial & Medical Technology
IO-Link: Finally, An Intelligent Solution for Low-Cost Sensor Connectivity
10 August 2017
Sponsored content
As deployment of the industrial IoT accelerates, the IEC's 2013 standardization of IEC 61131-9 (IO-Link™) with the IEC 61131-1 microcontroller standard seems prophetic. After all, data communication is the heart of IoT, and IO-Link significantly enhances it at the sensor and actuator level where the data is generated. As the first sensor and actuator communications interface technology to be adopted as an international standard, IO-Link also solves the issue of "interface proliferation." Not surprisingly, although it's still new, IO-Link is growing in popularity. There are already thousands of IO-Link-compatible sensors and other devices available from more than three dozen manufacturers.
A Solution for Interface Proliferation
The number of interface choices has grown over the years in response to the fact that there has never been a single, widely-accepted solution for connecting actuators and sensors. IO-Link solves this problem by providing a single protocol that satisfies all communication requirements. It accommodates the most basic to most advanced sensors, replacing interfaces ranging from binary switching to multichannel binary, bidirectional and RS-232. In short, IO-Link is effectively a migration path from current digital input (DI) and digital output (DO) interfaces for switching 24-V DC IEC 61131-2-compliant devices to a point-to-point communication topology.
IO-Link is not a fieldbus, but rather an intelligent single-drop digital communication interface (SDCI) that builds on the traditional three-wire transmission path long used for connecting sensors and actuators. It works with any fieldbus and is implemented in all major fieldbus systems, including PROFIBUS, PROFINET, AS-i, CANopen, CC-Link, DeviceNet, EtherCAT, EtherNet/IP, Interbus S, Powerlink and Sercos III.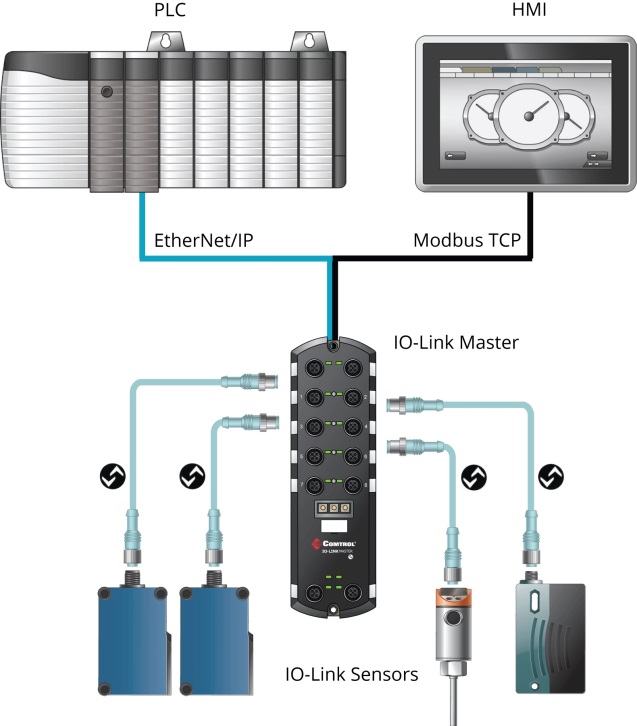 IO-Link also makes predictive maintenance of low-cost sensors and actuators a reality by bringing diagnostic and configuration data from the "edge" to the fieldbus using low-cost digital communication technology. IO-Link is backward compatible with current DI/DO signals, so both new and legacy devices can be used with IO-Link. The interface also doesn't require shielded cables or specialized connectors, operates over distances up to 20 m and uses standard M-series (M5, M8 and M12) hardware.
IO-Link Essentials
An IO-Link system (Figure 1) consists of IO-Link "masters" that act as a gateway to a fieldbus, compatible devices (sensors, RFID readers, valves and IoT modules) and "configuration tools" provided by device manufacturers. A master, of which there can be many in a typical industrial automation environment, has multiple channels to which IO-Link-compatible devices are connected, providing a point-to-point topology. Many sensor hubs can condense up to 16 sensors with one switching output or 8 sensors with two switching outputs into a single IO-Link connection. Hubs for binary actuators with analog inputs and outputs are also available.
The master detects, identifies and manages these devices, using the IO Device Description (IODD) files found in all IO-Link devices. The IODD contains all relevant details about the device, including manufacturer, model number, production date, firmware or hardware version and even the manufacturer's logo. The devices perform physical-to-digital conversion and communicate the result in a standard format using "coded switching" of the 24 V I/O signaling line. This eliminates the need for different DI, DO, AI, AO modules and numerous cables.
Messages from the devices provide the means for the system to perform essential diagnostics for determining device health and associated predictive maintenance. For example, if a wire breaks between an IO-Link device and a master, it is identified as a communication interruption and a message is sent through the fieldbus to the automation system's Ethernet network.
The configuration tools configure the entire IO-Link system and provide a representation of the IO-Link system down to the field level. These tools assign devices to ports on the master, assign I/O addressed to the ports and assign device parameters as well.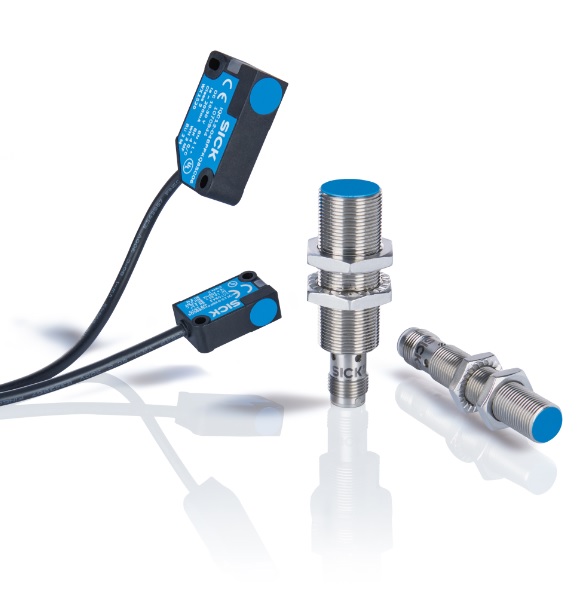 IO-Link integration was designed to be simple. For example, as the microcontrollers in the sensors have a UART interface, the addition of a few components and minimal protocol software allow them to support IO-Link communication. Once enabled, IO-Link's parameterization, data exchange, diagnosis reporting, identification and maintenance information become available. External parameter storage is provided for device backup and fast reloading of replacement devices.
IO-Link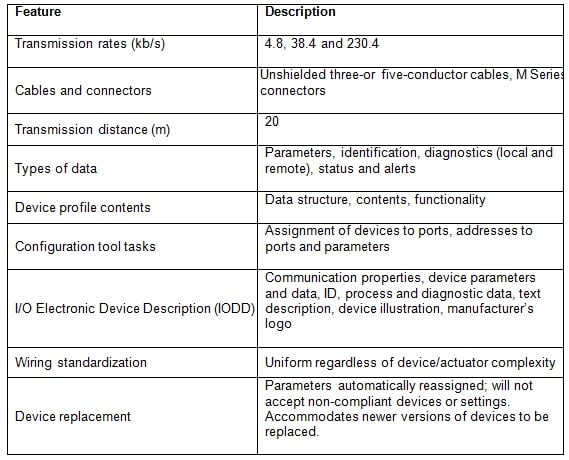 also greatly simplifies device replacement, as the IO-Link master receives the exact identification from each device. If during the often-hurried process of replacement someone attempts to install an incorrect device, the master will not accept it. IO-Link even accommodates a situation in which the failed device is being replaced with a newer version that might have additional features. In this case, the master recognizes that the replacement device is different and queries it to determine whether a suitable compatibility mode is available. If so, the master and device can work together. Some of IO-Link's features are shown in Table 1.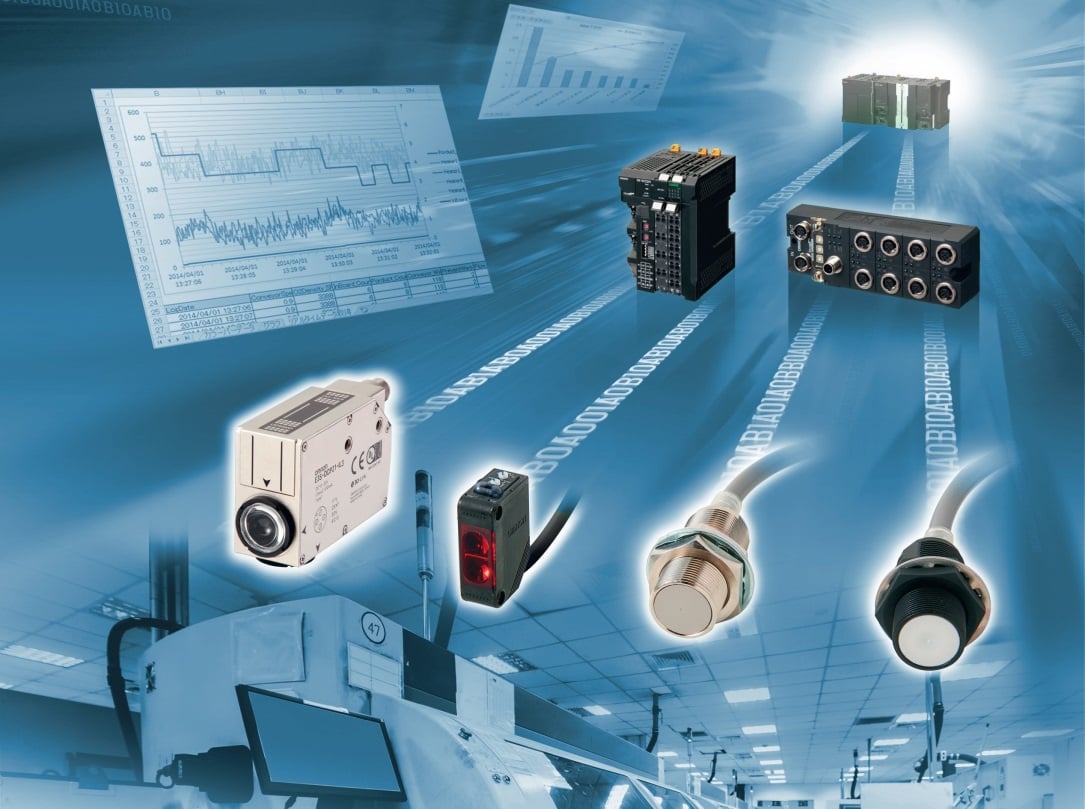 Two good examples of IO-Link-compatible sensors are the IMF inductive sensors from SICK and Omron's retro-reflective photoelectric sensors. The SICK sensors are available with detection ranges up to 20 mm, a wide operating temperature range of -40° to +100° C and resistance cleaning agents makes them well-suited for use in the food industry. Omron's retro-reflective photoelectric sensors have a polarized LED light source for shiny object detection, a sensing range of 4 m and a 1-ms response time.
Summary
IO-Link solves longstanding sensor- and actuator-level data communication problems, from providing a single open standard interface to bi-directional communication of diagnostic and configuration data. Plus, it allows meaningful predictive maintenance to be performed. As the standard becomes widely known and understood, more device manufacturers are integrating it within their products. As a result, IO-Link costs are now about the same as legacy products. Industrial IoT is becoming a reality, and IO-Link will almost certainly become a mandatory requirement for this application.
(IO-Link is a trademark of the IO-Link Consortium.)
Find Free Electronics Datasheets