ST Microelectronics said that its new reference design kit acts as a modern smart industrial sensor, simplifying the development of compact IO-Link (IEC 61131-9) sensors for fieldbus-independent, point-to-point bidirectional communication.
The STEVAL-IOD04KT1 kit consists of a main board, programmer and debugger tool, 14-pin flat cable and an M8-to-M12 standard industrial connector adapter. The main board integrates an STM32G0 microcontroller with ST's L6364W IO-Link dual-channel device transceiver, which supplies power to the microcontroller unit, sensors and other logic devices.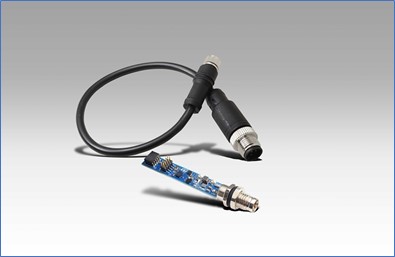 A new reference design kit is designed to simplify the development of compact IO-Link sensors. Source: ST MicroelectronicsThe L6364W transceiver is part of ST's family of integrated circuits designed to simplify IO-Link physical-layer implementation. It features 3.3 V and 5.0 V low dropout voltage regulators on-chip and a digitally configurable step-down DC/DC converter, enabling it to source current up to a 50 mA load — and helping developers to meet the efficiency and electromagnetic compatibility requirements of their application.
The L6364W transceiver also eases the STM32G0's workload by handling IO-Link communication. Digital features include wake-up recognition, a 15-byte data buffer and quartz-free IO-Link clock extraction. Surge-pulse protection (up to ±2.5 kV), electrostatic discharge and reverse-polarity protection are all on-chip — features that can save users from designing-in additional components while also saving PCB space and reducing bill-of-materials costs.
In addition to the L6364W, the board also features a high-accuracy three-axis digital output magnetometer, the IIS2MDC, and an inertial module with machine-learning core, the ISM330DHCX. One might imagine that all these integrations would translate to a large device, but an extremely small sensor enclosure is possible thanks to the tiny chip-scale package (CSP) options of the components. Dimensions of the main board are just 45.8 x 8.3 mm.
The board can be connected to a master IO-Link hub or suitable PLC interface. The use of a 10-pin expansion connector enables extra sensing modalities.
The kit's companion STM32Cube software pack, the STSW-IOD04K, provides an IO-Link Device Description (IODD) file, ST-proprietary IO-Link demo-stack, and routines for managing the L6364W and MEMS sensors. Hot-plug activation is supported. The software contains libraries to assist in the development of various types of sensors, and it can be integrated with additional X-CUBE software to further expand sensor functionality.
For more information on the new kit, visit the product overview page on the ST Microelectronics website.