The feasibility of retinal implants based on fractal geometry has been confirmed by simulations. Computational results indicate that such implants proposed by University of Oregon researchers enhance retinal neuron stimulation and offer prospects for markedly improving vision in those with retinal diseases.
Fractal objects have repeating patterns such as those easily seen in tree branches, rivers, snowflakes, blood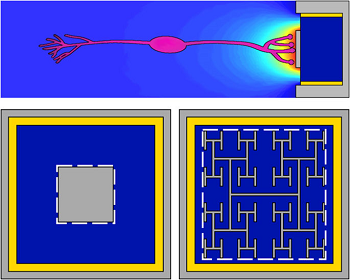 (Top) Side-view of the new implant design. (Bottom-left) Top view of the traditional design featuring a square inner electrode. (Bottom-right) Top view of the fractal inner electrode featuring a repeating H design. (Source: University of Oregon)vessels and neurons. The researchers are applying this concept to electrodes which would be implanted behind the retina. Other available implants use squares and other shapes derived from Euclidean geometry.
The ability of fractal and Euclidean electrodes to stimulate retinal neurons was compared in the simulations, revealing that the fractal version stimulated 90 percent more neurons while using less voltage. This smaller voltage can be achieved by a single diode compared to three diodes required for the Euclidean electrode's higher voltage.
The fractal devices provide a large surface area that holds more electrical charge relative to Euclidean electrodes. The researchers theorize that the implants could deliver 20/80 vision, meaning that those with 20/80 visual acuity can see objects at 20 feet away that those with normal or 20/20 vision see from a distance of 80 feet.