A device under development at Purdue University (West Lafayette, Ind.) can perform concurrent medical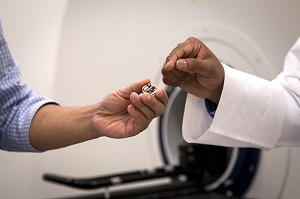 The technology would allow a more effective and safe way to monitor patients for diagnostic purposes. Image credit: Shannon Kane/Purdue Research Foundationimaging and record electro-physiological signals during an MRI scan.
Placed inside of an MRI unit, the device monitors brainwaves and other biological signals to augment scan data. According to the researchers, the tool serves as a platform to combine other imaging modalities while monitoring a patient for more than one diagnostic result.
Wireless and compact, the equipment is directly powered and operated by the MRI. By allowing researchers to record, stimulate and image the brain or other organs all through the MRI system, the new approach could enhance the safety, efficacy and precision of medical diagnostics for patients who suffer from epilepsy, Parkinson's diseases or depression.