MRI is a powerful imaging technique but it can typically only image motionless objects, meaning that the soft tissue dynamics of moving joints cannot be captured. The detector coils in an MRI scanner must be fixed in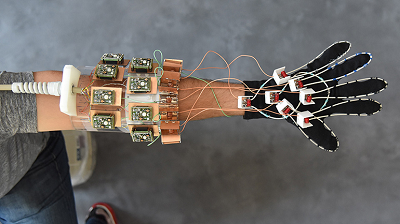 In a first for MRI, a glove-shaped detector proved capable of capturing images of moving fingers. The technology shows how tissue types move in concert, which could be useful in cataloging differences seen in injury. Source: NYU School of Medicineplace so that they don't interfere with each other, constraining the ability of MRI to image complex, moving joints.
This limitation has been overcome with a new MRI element design woven into garment-like detectors which can now capture high-quality images of moving joints. The device was fashioned by researchers at New York University School of Medicine as a wearable detector glove. All current MRI scanners measure signals that create currents in receiver coils (detectors), which have always been designed as "low impedance" structures that let the current flow easily. The new design uses a "high impedance" structure that blocks current, and then measures how hard the force in magnetic waves "pushes" (the voltage) as it attempts to establish a current in the coil.
With no electric current created by the MR signal, the new receiver coils no longer create magnetic fields that interfere with neighboring receivers, thus removing the need for rigid structures. The device with the new coils stitched into a cotton glove was demonstrated to generate clear images of freely moving muscles, tendons and ligaments in a hand as it played piano and grabbed objects.
The MRI glove could prove useful in the future diagnosis of repetitive strain injuries like carpal tunnel syndrome in office workers, athletes and musicians.
The research is published in Nature Biomedical Engineering.