New York University's Langone's Department of Radiology, through the New York University School of Medicine, is releasing the first large-scale MRI dataset of its kind as part of fastMRI, a collaborative effort with Facebook AI Research (FAIR). The dataset is designed to speed up MRI scans with artificial intelligence (AI) and includes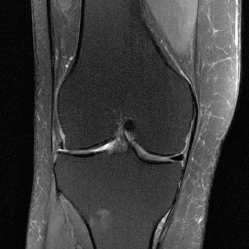 Source: New York Universitymore than 1.5 million anonymous MRI images of the knee drawn from 10,000 scans, as well as raw measurement data from nearly 1,600 scans. The fastMRI project is part of an effort to share open source tools and spur the development of AI systems to make MRI scans 10 times faster.
An MRI scan can take 30 to 45 minutes, and sometimes more than an hour depending on the reason for the scan. Using AI, researchers believe it will be possible to capture less data, and therefore image faster, while preserving or even enhancing the rich information contained in MR images. Patients who experience difficulty during lengthy scans, including young children and the elderly, could benefit from fastMRI capabilities. The project could also expand access to this diagnostic tool in areas facing a shortage of MRI scanners, which translates into long patient wait times.
The research team will provide a suite of tools, including baseline metrics to compare results, and a leaderboard to keep track of progress as part of an organized challenge to be announced in the near term. Future releases will include data from liver and brain scans.