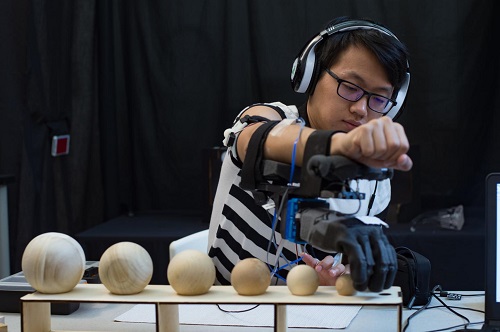 Researchers have developed a haptic rocker that allows users to grasp objects with a prosthetic hand. Image credit: Rice University
Haptic technology is the sensing or manipulation through touch to interact with computer applications.
Typically, haptic devices incorporate microcontrollers, drivers, actuators or motors, as well as software for multimodal experiences that improve the usability by engaging touch, sound and sight. Haptics can be found in virtual reality applications to give a greater sense of realism or create a 3D environment. They can also be used to generate feedback through input or output devices such as a smartphone or joystick.
While the technology has been found in gaming consoles and smartphones for many years, haptic technology is now growing beyond just these markets and into healthcare and rehabilitation, automotive and transportation and robotics.
According to the research firm Markets and Markets, haptic technology is expected to maintain a compound annual growth rate (CAGR) of 19.2 percent from 2016 through 2022 and the market was valued at $7.94 billion in 2016.
Wearables
While haptic technology has been found in smartphones, tablets and gaming consoles to offer touch vibration feedback for notification or recorded inputs in a game, the trend is switching to using haptics in smartwatches and wristbands. Haptics could send a notification to users that they have received a text message or give them navigation waypoints or directions through feedback.
More and more wearables are integrating haptic technology as a result of a further miniaturization of the technology, according to Eelco Bergman, senior director of business development at ASE Group, a semiconductor assembly, packaging and testing company that focuses on enabling small form factors in wearables and internet of things (IoT) devices.
"I can imagine this technology coming to a point where the mechanical functions move toward MEMS type devices for further miniaturization enabling further haptic features," Bergman told Electronics360.
Healthcare and Education
Haptics is widely becoming a tool used in a variety of applications in the healthcare industry. It can be used to help the visually impaired by allowing users to touch a screen and also feel the texture on their fingertips. Other uses could be in medical training with virtual reality training simulators, implantable devices that produce feedback or even in robotic surgeries.
"Doctors doing remote surgery through robotics will need to have active feedback of force and movement," Bergman said. "This is all part of a virtual reality that extends beyond just visual virtual reality but physical virtual reality."
Recently, Rice University developed a haptic rocker that allows users to grasp objects with a prosthetic hand to give a muscle sense to artificial limbs. The technology could be used to change how traditional prostheses function and how amputees can grasp objects. The technology uses a noninvasive user interface with a rotating arm that brushes a soft rubber pad over the skin of the arm for feedback.
In education, haptics could be used as a way to teach students or enhance the learning experience for students, especially those that are falling behind or those that have learning disabilities.
Automotive Market
Haptics in cars is becoming a way for automotive displays to provide tactile feedback for better control inside the car as well as a greater sense of safety.
Force feedback has been used previously for automotive manufacturing simulation applications, especially for assembling and manufacturing components. Now it is being ported inside the vehicle for applications such as receiving feedback from the steering wheel or seats, such as a vibration indicating a pedestrian is about to cross the street.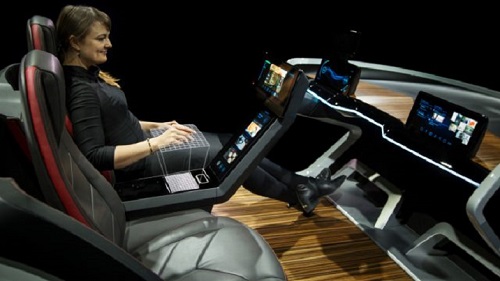 Bosch showed off a concept car with haptics technology included. Image credit: UltrahapticsAt CES 2017, Bosch showcased haptic feedback for gesture control inside cars to control different functions inside the car. Ultrasound waves strike a user's hand and provide feedback that makes it feel as if the user is actually touching a physical knob.
Everything Else
Other future uses for haptics could be in the smart home, where the technology could control kitchen appliances through force feedback, using a mix of augmented reality and sensors. It could also be used eventually to control home automation hubs, smart thermostats, lighting and more.
In robotics, haptics could be used when someone is trying to service a piece of equipment remotely. Having some sort of force feedback ability would expedite the service process. Or when a robot is sent to a dangerous or remote area and its operator needs feedback to ensure the machine has accomplished its task.
In gaming, merged reality will be combined with wearable technology to produce new gaming vests that give feedback as a response to what is happening inside the goggles or on the screen.