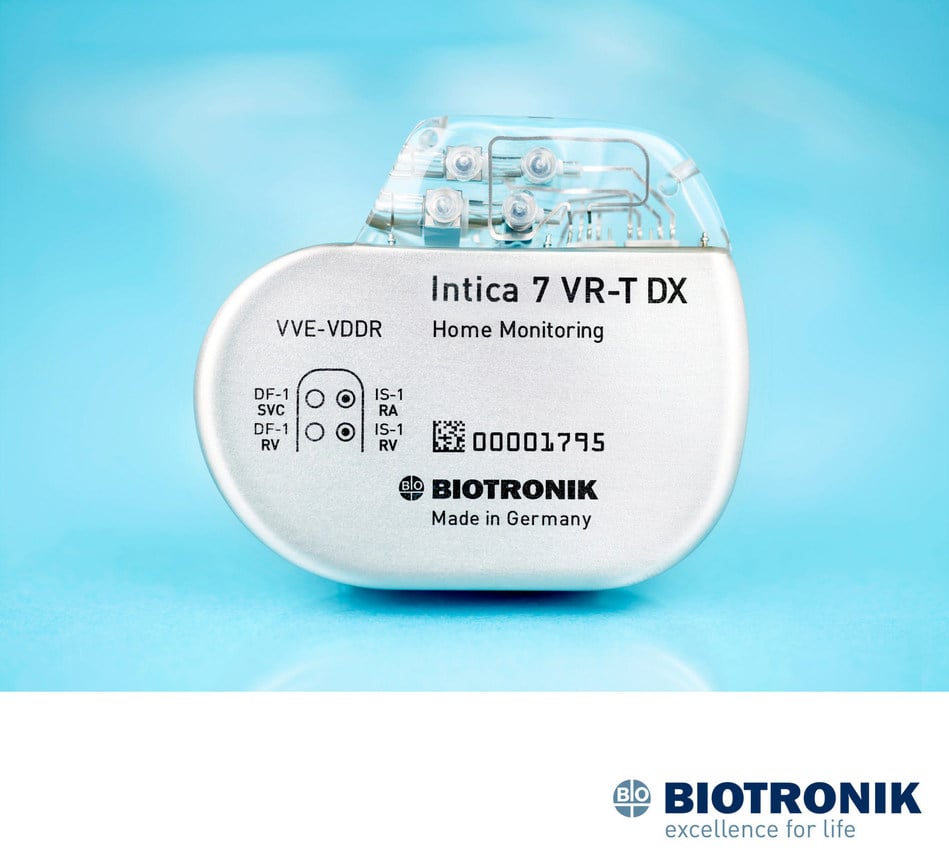 The Intica DX. Image credit: BIOTRONIK
BIOTRONIK announced the FDA approval and availability for the Intica DX and Intica cardiac resynchronization therapy (CRT)-DX implantable cardioverter defibrillator (ICD) systems. The launch of Intica CRT-DX extends the proven benefits of BIOTRONIK's DX technology to heart failure patients. DX eliminates the need for an atrial lead while providing physicians with diagnostic information based on the atrial signal.
BIOTRONIK launched DX technology in 2013 with a focus on improving patient care and decreasing rates of complication. DX minimizes hardware while providing critical diagnostics. This allows physicians to monitor, manage and prevent cardiac events better than before. Intica CRT-DX is the first cardiac rhythm management device for heart failure patients that delivers atrial diagnostics without needing an atrial lead. Atrial diagnostics help physicians in the early identification of supraventricular tachycardia (SVT), atrial fibrillation (AF) and atrial ventricular synchronization.
Intica CRT-DX includes BIOTRONIK's MultiPole Pacing (MPP) technology. MPP enables the left ventricle (LV) of the heart to be paced twice per cardiac cycle — sequentially or simultaneously — allowing for greater customization of heart failure therapy.
BIOTRONIK is the only company that offers MR conditional devices with independent simultaneous LV paces.
The Intica DX device systems incorporate other industry-leading technologies. It has MRI AutoDetect, which shortens the window of reduced therapy and eliminates the need for post-MRI reprogramming. It comes with BIOTRONIK Home Monitoring® that automatically transmits device data daily. The device also has closed look stimulation that equips the device to respond appropriately to physiologic demands and acute mental stress.
To learn more about this new CRT device, visit BIOTRONIK.