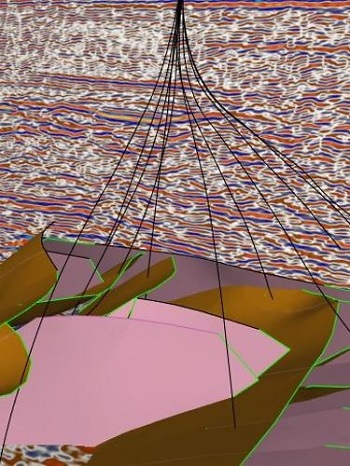 The software improves workflow efficiency and reservoir management decisions. (Source: Emerson)Updated reservoir characterization and modeling software from Emerson (St. Louis) delivers improvements across the geophysics, geology and reservoir engineering domains and provides accurate models and reliable simulations.
RMS 10.1 introduces extended functionalities within the seismic domain, bridging the gaps between seismic interpretation and geological modeling. Features include enhanced seismic resolution on horizons and faults for more accurate interpretation; better snap-to-seismic capabilities where guide points can be displayed in 3D as well as on intersection views to improve interpretation and quality control; new structural modeling features through robust pinch-out modeling and superior uncertainty representation around faults.
RMS 10.1 also comes with greater workflow integration between static and dynamic domains, thanks to an improved events management utility that strongly supports time-dependent data and facilitates both the building and maintenance of simulation-ready flow models.
Powerful displays enable users to co-visualize, compile and analyze data from multiple sources.