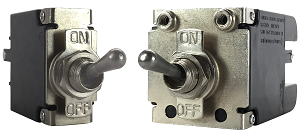 The MS-Series. Image credit: Carling Technologies
Carling Technologies has updated its MS-series of sealed toggle circuit breakers designed to withstand harsh environments for military applications with TUV certification.
The circuit breakers meet the IP68 requirements and feature a durable metal and sealed mounting bushing with MIL-PRF-39019F ingress protection when mounted in a panel.
The circuit breakers were designed in accordance with the requirements of MIL-PRF-55629 and MIL STD 202 making it good for shock, vibration, moisture resistance, salt spray and thermal shock. These applications include commercial off-the-shelf military communication equipment, off-highway equipment for construction, mining and agriculture, generators and power suppliers and harsh environment applications.