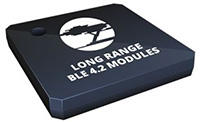 The EZ-BLE PRoC XR module. Image credit: Mouser, Cypress
Mouser Electronics Inc. is now shipping EZ-BLE™ PRoC™ XR Bluetooth® 4.2 modules and evaluation boards from Cypress Semiconductor. These Bluetooth low-energy wireless modules offer an extended range of up to 400 meters of bidirectional communications (or up to 450 meters in beacon-only mode) for a broad range of applications, including internet of things (IoT) and home and factory automation.
The Cypress EX-BLE Programmable Radio-on-Chip (PRoC) XR modules are 48 MHz 32-bit solutions with 256 Kbytes of Flash, 32 Kbytes of SRAM and a 12-bit SAR analog-to-digital converter (ADC). The modules have two integrated crystals up to 19 general-purpose inputs and outputs (GPIOs) and a programmable architecture that supports a few peripheral functions (such as ADC, timers, counters and PWM) and serial communication protocols (including I²C, UART and SPI).
The EZ-BLE PRoC XR modules include a royalty-free Bluetooth low-energy compatible with Bluetooth 4.2. They are available in two certified versions (CYBLE-212006-01 and CYBLE-202007-01) and an uncertified version (CYBLE-202013-11). The CYBLE-212006-01 includes integrated trace antenna and the CYBLE-202007-01 supports an external antenna via a u-FL connector.
The uncertified CYBLE-202013-11 supports an external antenna through an RF solder pad output and omits the RF shield. To learn more about this new product, visit the Mouser page here.