A stable, reliable smart grid which allows a power distribution system to route renewable energy from homes and businesses into the power grid can be realized by use of smart solid-state transformers (SSTs). A study conducted by North Carolina State University researchers using complex computational models concludes that SSTs are essential for moving smart grid systems from concept to reality.
Researchers at the National Science Foundation's FREEDM Systems Center at North Carolina State University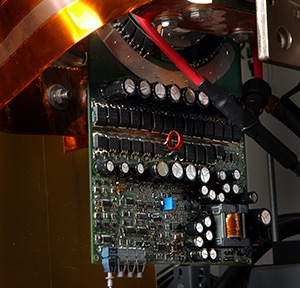 SSTs can make the smart grid concept a reality. (Source: North Carolina State University)unveiled the first SST in 2010, which not only performed all of the functions of a traditional transformer, but could also redirect power as needed to address changes in supply and demand. These units can scale down voltage for residential and commercial use, and scale up voltage from residential-scale renewable sources in order to feed that power back into the grid.
A complex model was developed to simulate the behavior of a power distribution system, accounting for the SSTs, renewable energy sources, and energy storage. Analyses determined that SSTs can enhance power grid functionalities, providing that system designers and operators ensure that the system accounts for customer power demand, power generation from renewable sources and energy storage capacity, in order to avoid providing too much or too little power.