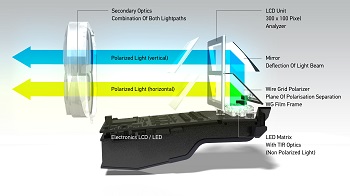 HELLA developed an efficient polarization concept for the Liquid Crystal HD headlamp. Image credit: HELLA
A new automotive headlamp incorporating liquid crystal display (LCD) technology engineered in Germany projects 30,000 pixels onto the road. The design enables adjusting the light pattern in an intelligent and continuous manner to various driving situations in real-time.
The LCD, situated between an LED light source and a projection lens, generates a matrix with 100 x 300 pixels that can be individually controlled and dimmed. A camera and a LiDAR sensor optically read distances and speeds and forwards the ambient information to the headlamp control unit via a processor. This then directs the individual display pixels up to 60 times per second. The light intensity of the 25 high-power LEDs is adjusted to the respective lighting situation.
Research participants included HELLA KGaA Hueck & Co., Merck, Institut für Großflächige Mikroelektronik IGM, Stuttgart University, Porsche, Elmos Semiconductor, Schweizer Electronic and the University of Paderborn.