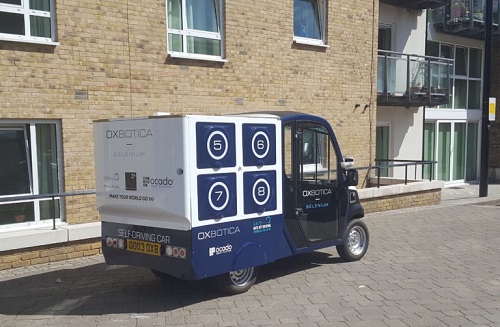 The CargoPod has eight compartments that light up when nearing a customer's location. Image credit: Ocado
Ocado Technology has concluded its driverless grocery delivery trials in the U.K., presenting a blueprint for future self-driving delivery services.
During the past few weeks, Ocado's CargoPod has been on the streets of the Royal Arsenal area in Greenwich in London to deliver free groceries to local residents. The van is a self-driving electric vehicle capable of transporting cargo using the company's cloud-based fleet management software and autonomous control system.
The project was part of the GATEway Project, a $10 million research project led by TRL and Oxbotica, a spin off from the Oxford Robotics Institute, Digital Greenwich, Telefonica and more.
The trial was designed as a last mile online delivery for goods that leave the facility for delivery and ends when they are placed in the customers' hands. The goal was also to learn more about the next steps needed before driverless deliveries could become a viable proposition, Ocado says.
The CargoPod van is equipped with eight cargo compartments that light up when a van arrives at a particular stop. The customer then presses a central button that unlocks the compartment and opens the door to retrieve the groceries.
The van can cover a distance of 30 kilometers on a single charge at speeds up to 40 km/h. The Selenium operating system uses data from lasers and cameras placed around the vehicle to know where it is and what's around it as well as where to go next.
The cameras are used to determine the location of the vehicle while the lasers are used for obstacle detection and perception. The Selenium software learns from its environment and actions while sharing these experiences with other vehicles.
Ocado says a working service of self-driving vans is still a few years off but the technology is developing rapidly to enable it. Ocado believes this technology could be used beyond just grocery deliveries and for transporting goods from inbound to storage and from pick stations to outbound areas.