A hand-held Raman spectroscopy probe that surgeons can use to distinguish between cancer cells and normal tissue has been demonstrated. The multimodal optical spectroscopy instrument first developed by Canadian researchers in 2015 has been fine-tuned to allow surgeons to accurately detect virtually all brain cancer cells in real-time during surgery.
In intraoperative testing, the device detected cancer cells with nearly 100 percent sensitivity, indicating an incredibly high level of accuracy.
It is often impossible to visually distinguish cancer from normal brain tissue, so invasive brain cancer cells frequently remain after surgery, leading to cancer recurrence and a worse prognosis. Surgeons can use the new probe during a procedure to detect cancer cells in real time, a determination that is difficult to make by sight alone. The probe is also effective in detecting multiple cancer types, including brain, lung, colon and skin cancers.
This new version of the Raman probe is multimodal, and uses intrinsic fluorescence spectroscopy to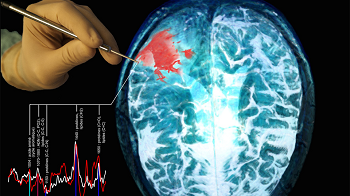 Schematic depiction of the probe being used to interrogate brain tissue during surgery. The image shows a photograph of the probe held by a surgeon, Raman spectral associated with normal brain and cancer, as well as a magnetic resonance image of a brain cancer patient with the red area representing the tumor. (Source: Polytechnique Montréal)interpret the metabolic composition of the cells, as well as diffuse reflectance spectroscopy to analyze intrinsic tissue absorption in patients.
Recent testing on 15 brain surgery patients assessed the sequential use of these high-sensitivity spectroscopy techniques integrated into a single sensor coupled with a detection system, in combination with stimulating lasers, a highly sensitive camera and a spectrometer. The surgeon benefited from molecular imaging that provided never-before-seen accuracy, with cancer detection sensitivity improved by about 10 percent compared with the first-generation probe.
The first-generation Raman spectroscopy probe is currently the subject of a randomized controlled trial involving patients with gliomas. The study will be the first in the world to demonstrate the clinical benefits of intraoperative probe use during brain surgery. The results will be used to establish the protocol for an upcoming clinical trial of the second-generation multimodal probe.
Scientists from Polytechnique Montréal, the University of Montreal Hospital Research Center, the Montreal Neurological Institute and Hospital (The Neuro), McGill University and the McGill University Health Centre participated in this research.