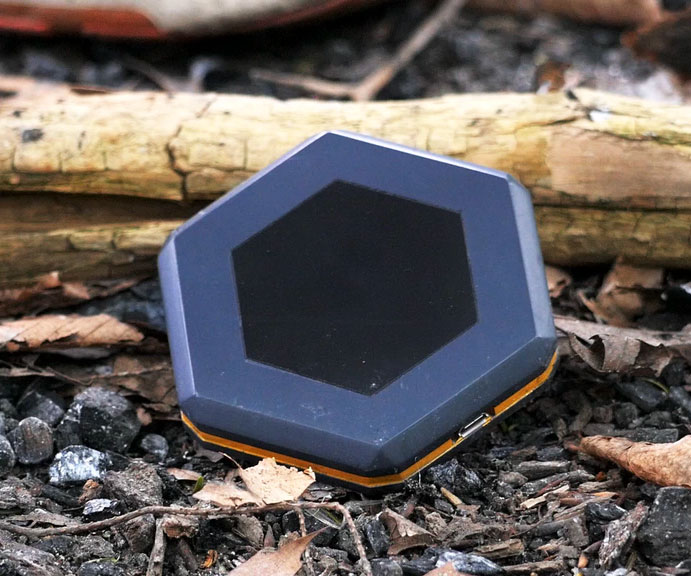 The Sonnet wireless device for off-the-grid communication. Image credit: Sonnet
Sonnet is a new wireless device that allows smartphones to send instant messages, voice recordings, images and GPS coordinates when cellular data is unavailable. This device is good for communicating with others while on a camping trip, in a foreign country and many other situations.
Sonnet brings long-range wireless communication just like a two-way radio, or walkie-talkie, to the smartphone. It allows device-to-device data to transfer through low-power, long-range radio frequencies. This removes the smartphone's dependence on a cellular grid. Sonnet connects wirelessly to a smartphone, which then sends data up to several miles away to other smartphones that are connected to Sonnet.
Sonnet can be very helpful to wilderness lovers. Using Sonnet, hikers don't have to stick together for fear of losing each other. Hiking groups can branch out to different areas they want to explore, but can still find each other at the end of their hike. Solo hikers also don't have to worry about getting lost in the woods. Sonnet allows users to use GPS locators to find their way home when cellular data is unavailable. Sonnet comes equipped with offline maps that allow users to get directions and view points of interest without an internet connection. Users can also leave virtual breadcrumbs on the map so they can find their way back to their point of origin. Hikers and campers don't have to wait until they find cellular data to share photos of their adventures. Users can share photos instantly with Sonnet.
Sonnet also allows users to contact emergency services if they are in an area that doesn't have service. If the user's car breaks down on the side of the road in the middle of nowhere and there is no service, they can use Sonnet to contact 911 for help. Sonnet is equipped with a panic button. The panic button allows users to send out a message that contains their GPS location and a distress message to all Sonnet users that are within range. Users also can let friends and family know that they are okay after dangerous weather has passed through their area.
To use Sonnet, users connect their phone to the Wi-Fi access point on Sonnet. Then, they open the browsers and open app.sonnetlabs.com and start chatting. The chat, GPS and other services are all operated within the Sonnetlabs.com website so users don't have to download an app. There will be a Sonnet app available eventually for users who enjoy apps, but for now, everything is done through the site. Sonnet is able to send data over long distances of up to three miles (5 km) between two Sonnets. The range could be larger if there is a line-of-sight, like when the sender and the receiver are on top of two mountains, for example.
The Sonnet has a mesh networking protocol. This allows for dramatic increases in the effective range and allows users to send data to recipients who are outside of the point-to-point range by automatically replaying data through other users. This is done privately with industry-standard encryption technologies.
Privacy is a top priority for the Sonnet team. The creators of Sonnet have made sure that most of the communications are end-to-end encrypted with AES. The Wi-Fi connections between Sonnet and the smartphones are protected with WPA/WPA2. The only communications that are not private are SOS distress calls and public messages, which are meant to be seen by as many people as possible.
Another feature of Sonnet is mobile charging. Sonnet has a USB port that is compatible with most smartphone charging cords, so users can charge their phone on the go. Sonnet has a 4,000 mAh battery capacity, which allows it to fully charge most of the smartphones on the market.
The portable communication device is also weatherproof. Sonnet's rugged design makes it durable enough to survive any outdoor use. It will be rated IP66, which means that it is dust-tight and water-resistant.
Sonnet weighs 160 grams and is 88 mm x 80 mm x 17 mm. It is in the shape of a hexagon. It has a rechargeable lithium-polymer battery that lasts up to 24 hours and connects via USB or power adapter to recharge.
Sonnet is currently on Kickstarter with $33,527 of their $17,000 goal with 255 backers and 31 days left in their campaign. When the Kickstarter ends, they will begin production in October and Sonnet will start shipping in November 2017.