Jenn-Air has released their new downdraft cooktops that have a quiet ventilation system which eliminates the need for an overhead hood. The cooktop has proximity ventilation on the cooktop, rather than above, which captures smoke, steam, and odors before they can reach the kitchen.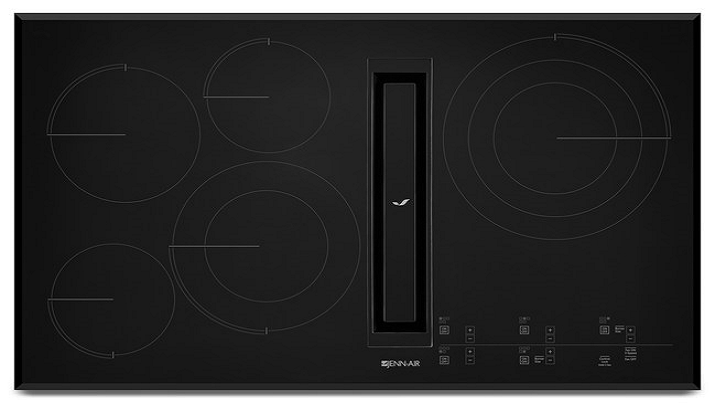 The new JX3 stovetop (Jenn-Air)
The new cooktop has the three-speed JX3® Downdraft Ventilation System that Jenn-Air designed to capture cooking vapors. The system allows for low 310 CFM blower which, according to Jenn-Air, performs quietly without compromising its ability to handle the power demand from the burners and other elements. The cooktop has a shorter plenum which allows for easy cleaning below the cooktop surface. The air grill is also dishwasher shave.
There is an option for the customer to have duct-free installation. With this, Jenn-Air includes a duct-free filter kit with an HAPA filter which monitors filter life and captures smoke, grease, and moisture. This allows air to travel through the filter without impeding airflow.
The new Electric Radiant Downdraft Cooktop comes in 30" and 36" sizes. They feature perimetric ventilation. This ventilation helps concentrate air suction for quiet and quick cooking odor capture.
The elements on the 36" electric cooktop include the 12"/9"/6" Triple-Choice™ Element. This provides cooking flexibility which accommodates various sizes of cookware. It has a wattage output that ranges from 1,550 watts to 4,500 watts. It also has a two-tiered 10"/6" Dual-Choice™ Element that handles various cookwares as well, with an output of up to 3,000 watts when both elements are in use. The cooktop also includes a 6-inch 1,300-watt element that can reach 300 watts and a 6-inch, 1,200-watt element that is ideal for smaller cookware. It also has sealed brass burners with removable bases. The burner on the 36" model includes a 17,000 BTU Ultra-High Output Burner. The stovetop also has porcelain-on-cast iron continuous grates with a design that lines flames up between grate fingers. It also has DuraFinish® Protection to keep the stove top looking new. The stovetop also features an Electronic Ignition and Flame-Sensing™ for re-ignition if a burner's flame is accidentally blown out.
The models have intuitive glass touch electronic controls on an amber LED display. The glass surface is easy to clean and also comes in Euro-Style Stainless design with a stainless steel border, or a borderless, black floating glass design. The stove top retails from $1,999 for the 30" model or $2,199 for the 36" model.
To learn more about this new stove top, visit the Jenn-Air site here.