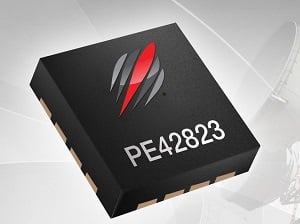 The PE42823 RF switch. Source: Peregrine Semiconductors Peregrine Semiconductor Corp. has introduced a RF switch targeted at emerging radio architectures such as massive multiple input, multiple output (MIMO).
The PE42823 RF switch delivers single-event peak power handling, low power consumption and high linearity in a compact form factor. This switch also includes a built-in ESD protection, which Peregrine says is a benefit for systems that need high reliability.
Receiver protection switches are used to protect the system when an antenna is disconnected that occurs at installation, field failure or when unexpected power surges. The RF switch reflects power and protects the receiver system from damage. Covering a frequency range from 700 MHz to 6 GHz, the switch is a reflective single pole, double throw (SPDT) device that handles single-event peak power of 51 dBm LTE, a power consumption of 120 microamps and linearity performance across the frequency range.
The PE42823 switch is in volume production priced at $5.43 in 10,000 unit quantities.