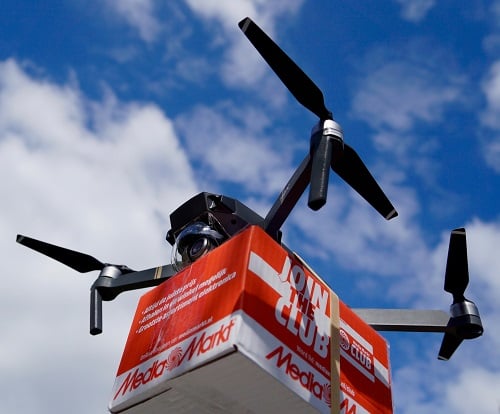 A delivery truck could carry a number of drones that all set off on different paths from one truck. Source: University of WashingtonWhen Amazon toyed with the idea of using drones for delivery of packages, at the time it was viewed as a hilarious concept wrought with problems from the technology not available to do it, to navigation issues to even the need for such a delivery mechanism.
Fast forward a few years and the next big thing in package delivery is indeed the use of unmanned aerial vehicles (UAVs) as a way to augment delivery trucks to reach more remote locations more efficiently and cost effectively.
But are drones as a delivery tool worth it to the environment? Researchers at the University of Washington decided to study the impact of delivery drones on carbon dioxide emission reduction and compared them to truck deliveries.
Researchers found that drones tend to have carbon dioxide emissions advantages over trucks when the drones don't have to fly very far or when there are only a few recipients in the delivery route. A truck, however, becomes more climate friendly when a deliver route has many stops or is farther away from a central warehouse.
For smaller, lighter packages, drones perform especially well. However, when the weight of the package increases the carbon benefits erode because of the additional energy required for a heavy load to be carried.
"Flight is so much more energy-intensive — getting yourself airborne takes a huge amount of effort. So I initially thought there was no way drones could compete with trucks on carbon dioxide emissions," said Anne Goodchild, an associate professor of civil and environmental engineering at the University of Washington. "In the end, I was amazed at how energy-efficient drones are in some contexts. Trucks compete better on heavier loads, but for really light packages, drones are awesome."
The study measured carbon dioxide emissions and vehicle miles traveled from drone and truck deliveries in 10 different, real-world scenarios in Los Angeles. The model incorporated 330 different service zones with a number of deliveries from 50 to 500 in each zone.
One takeaway from the study was that researchers believe drones are unlikely to be used for all delivery applications but they make sense in some contexts such as shorter trip in less densely developed communities or in controlled places like military bases or campuses. Researchers say a hybrid system in which a truck hauls an entire load of packages to a central location and fleet of drones fan out in opposite directions to reach homes or businesses is a likely scenario.
"Given what we found, probably the most realistic scenario is for drones doing the last leg of the delivery," Goodchild said. "You're probably not going to see these in downtown Seattle anytime soon. But maybe in a rural community with roads that are slow and hard for trucks to navigate and no air space or noise concerns."
The full research study can be found in the journal Transportation Research Part D: Transport and Environment.