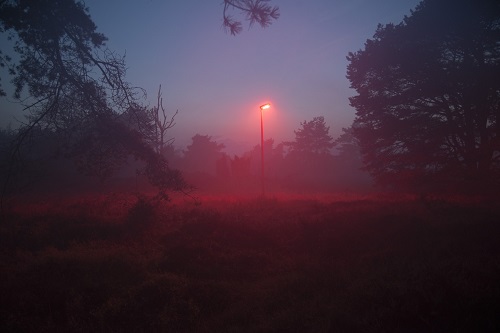 Red LED illumination was found not to disturb bats' nocturnal foraging activity. Source: NIOO-KNAWResearchers at the Netherlands Institute of Ecology (NIOO-KNAW) and the Wageningen University have been studying the impact of light emitting diode (LED) lighting on bats, researching how bat species react to different light colors in their natural habitat.
The researchers have been working with Philips Lighting, who provided the LEDs for the study, in order to develop road lighting that won't disturb light-shy bats from foraging in an effort to preserve the environment as LED technology installations continue worldwide.
The use of artificial light at night has increased dramatically worldwide and is expected to increase by 6 percent per year. Bats are nocturnal animals and forage only in darkness meaning artificial light can dramatically impact their activity levels.
In the experiment, researchers established eight field sites in the Netherlands to test how bats respond to three different experimental light spectra in an otherwise dark and undisturbed natural habitat. These light sources were Philips LED light poles emitting red, green and white light, which all produce light intensity commonly used to illuminate country roads.
The results showed that bats really don't like white and green lights at all and it dramatically reduces their activity in their natural habitat. However, the red light did not affect their activity levels for foraging at night. Researchers recommend that to limit negative impact of light at night on bats, red LED illumination is needed in otherwise dark and undisturbed natural bat habitats.
"The report is the culmination of five years of research which has highlighted how light can protect bats which are an endangered species group globally," said Maurice Donners, senior scientist at Philips Lighting. "In conjunction with NIOO-KNAW, our next step is to build on this research, and to assess how much of the bats' habitat is being lost when damaging light is used and how Philips ClearField light can mitigate this."
The full research report can be found in the journal The Royal Society Proceedings B.