Future users of prosthetics could benefit from an ultrathin (35µm), implantable chip design recently announced by a joint Imec (Interuniversitair Micro-Electronica Centrum) and University of Florida research team. The new chip carries 64 electrodes—a world first for electrode density—providing amputees with much more intuitive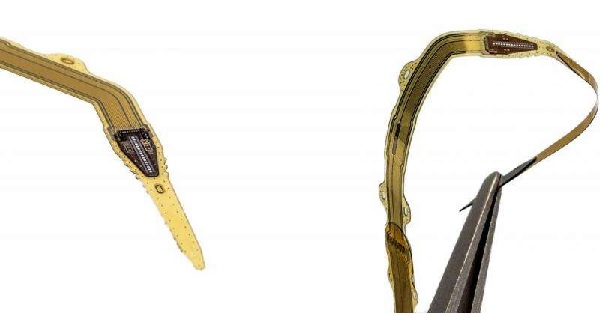 Thin-silicon implantable chip. Credit: Imeccontrol of their artificial arms.
Present prosthetic technology allows some ability to move an artificial arm and open and close the hand. Control comes from the wearer's nerves or peripheral muscles operating small motors in the prosthesis. However, the wearer lacks fine muscle control or any sense of touch.
To provide this level of control, prostheses need to receive much more precise signals from the wearer's peripheral nerves. The new chip is biocompatible, so it can be implanted. It is also hermetic and flexible. By attaching the chip to a nerve bundle, which increases the precision with which the wearer can control the arm. The high density of electrodes and precise chip placement make this a breakthrough technology for arm prostheses.
According to Rizwan Bashirullah, associate professor of Electrical and Computer Engineering, and director of the University of Florida's IMPRESS program (Implantable Multimodal Peripheral Recording and Stimulation System), "this effort aims to create such new peripheral nerve interfaces with greater channel count, electrode density, and information stability."
The next step for the research team will be preparing the chip for long-term testing.
This work was sponsored by the US Defense Advanced Research Projects Agency's (DARPA) Biological Technologies Office.