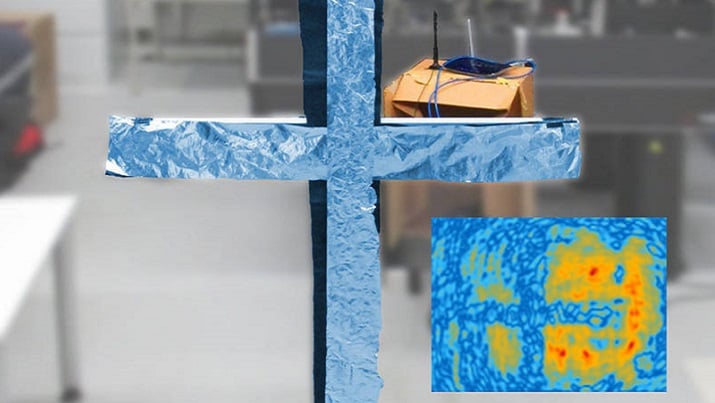 An aluminum-foil cross between a viewer and a WLAN-router can be reconstructed from WLAN-hologram. (Credit: Friedemann Reinhard/Philipp Holl / TUM)
Scientists at the Technical University of Munich have developed a holographic imaging process that generates three-dimensional images of the surrounding environment, without requiring elaborate laser technology.

As reported in the journal Physical Review Letters, the new process works by depicting microwave radiation from a Wi-Fi transmitter, and requires only one fixed and one moveable antenna to create imagery. Previously, generating images from microwave radiation required special-purpose transmitters with large bandwidths. With holographic data processing, the researchers found they could image with centimeter-scale precision using the very small bandwidths (2.4 to 5 gigahertz) typical of household Wi-Fi transmitters, or even Bluetooth and cellphone signals. Future Wi-Fi frequencies, like the proposed 60 gigahertz IEEE 802.11 standard, will allow for millimeter-scale resolution.

Led by Friedemann Reinhard, director of the Emmy Noether Research Group for Quantum Sensors at TUM's Walter Schottky Institute, the researchers envision applications such as localizing parts and devices in the automated industrial facilities of Industry 4.0. Treating microwave holograms like optical images allows extracted information to be embedded into the camera of a smartphone, for example, to trace a radio tag attached to a lost item. An entire space can be imaged via holographic processing of Wi-Fi or cellphone signals.

Scientists are just at the beginning on the technological development. Further research in materials transparency would allow the development of paint or wallpaper translucent to microwaves, creating privacy protection – as well as the development of transparent materials that could be deployed in factory halls to allow parts tracking. The dark-field methodology used in microscopy also could be employed to improve the recognition of weakly-diffracting structures, and white-light holography can be used to eliminate noise from scattered radiation.

Further advancement of the technology may one day aid in the recovery of victims buried under an avalanche or a collapsed building. While conventional methods allow only for point localization of victims, holographic signal processing could provide a spatial representation of destroyed structures. This would help first responders to navigate around heavy objects and use cavities in the rubble to help them quickly reach victims.