Fiber optic lighting is a well-established and well-characterized technology with many applications that are obvious and very typical. However, put fiber in the hands of scientists and engineers engaged in cutting-edge biomedical research, and they very quickly come up with new applications that may change the course of medicine as we know it.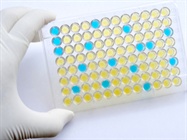 Microplate readers that use fiber to capture fluorescence from many cell reactions at one time are accelerating bio-medical research into areas such as curing cancer. (Source: Biocompare)
Traditional applications
Fiber optic lighting is very useful for hard-to-reach commercial lighting, billboards, small spaces, and anywhere a hot filament or electrical discharge may cause an explosion. For a generally accepted principle, anywhere a bulb is hanging off a billboard, fiber optic lighting should probably have been used: no one wants to climb a scaffold or ladder to change a bulb. The rule applies to pretty much any application that's hard to access or may be dangerous, including homes with 30-ft ceilings.
However, there are some applications where fiber optic lighting is the only viable option, and medical is one of those applications. It's already widely used for endoscopic exploration, and not just because it's dangerous to put a hot filament or LED bulb inside the human body. Fiber optic lighting:
· Isolates the patient from electrical circuitry.
· Does a good job of stripping out the infrared part of the spectrum to minimize the amount of heat introduced in a patient.
In addition, fiber optic cable is flexible; it emits more light through a small opening relative to a light bulb, and it emits that light only on the subject… optimizing viewing comfort and object contrast.
With regard to heat, although IR can be removed from the source, there is still risk of heating with fiber optic lighting because the concentrated photonic output is absorbed and converted to heat. This concern is only a factor in very high-energy lighting applications.
Fiber at the biomedical/analytical edge
It's often the case with technology, adopters come up with creative applications the inventor/manufacturer would likely never have predicted. Such is the case with fiber optic technology in the hands of medical researchers and designers of medical instrumentation.
Take the capture of fluorescence on microplates, for example. Microplates comprise 9, 64, or even 384 small wells on a plate the size of a deck of playing cards and just about as thick. Each well typically contains the same cell sample. Different chemistries are introduced into each well, creating a reaction between cell and chemistry. When instrument designers link a fluorescent reaction to the effect of the chemistry on the cell, a fiber in close proximity transmits the fluorescing effect to an optical detector, which converts the light to a signal that can be measured and analyzed. In this application, fiber is used as a signal transmitter, creating the ability to translate chemical reactions.
With the integration of fiber technology, microplate readers continue to get faster, smaller and more accurate, making analysis of compound testing a significant contributor in the race for a long-sought cure for cancer.
Florescence transmission is just one of many innovative instrumentation applications of fiber that we will present in future posts.