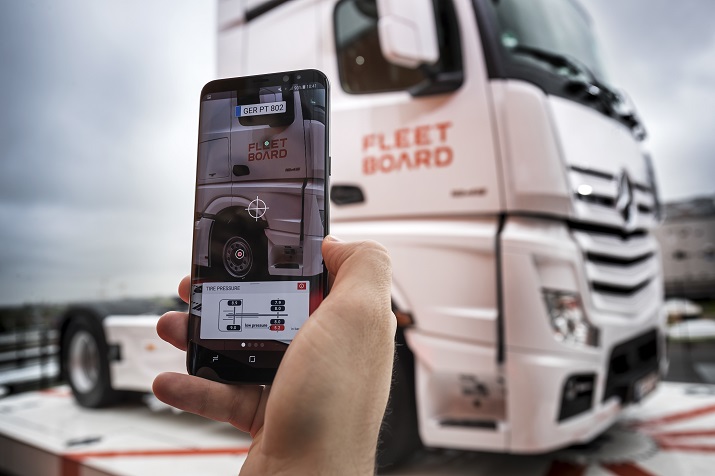 FleetBoard's Vehicle Lens app pilot project tracks a truck's number plate and superimposes the information in augmented reality. Source: FleetBoardFleetBoard, a division of Daimler AG, has launched the first product from its collaboration with connected services vendor HERE, an Azure cloud platform that will form the basis for all FleetBoard services and solutions.
Nxtload will allow for fast software updates, releases and scalability for establishing digital products that will remain sustainable and can be improved. The cloud solutions will offer a wide range of applications that can be continually advanced and expanded, Fleetboard says. Nxtload will allow for an easy search and booking of freight orders across different freight exchanges. FleetBoard says it will increase the capacity utilization of vehicles while adding transparency.
"Since the market launch of telematics-aided Internet services in 2000, FleetBoard has set the standards in the industry. To date, about 220,000 vehicles of more than 7,000 customers are on the roads that are connected via FleetBoard," said Stefan Buchner, Head of Mercedes-Benz Trucks. "Due to entirely new technical features, we are getting ever closer to our vision of seamless transportation: We connect all traffic flows and all parties involved in transportation. This not only makes the business of our logistics customers more efficient, but also helps to optimize traffic flows, reduce traffic and accelerate transport processes as a whole."
In addition, Fleetboard has unveiled its strategy for the future of logistics and trucking with a number of applications it is working on in a pilot project phase that it will hopefully be rolling out in the coming months or years.
The FleetBoard FuelHub pilot will help companies communicate between other vendors with their own fuel tanks as well as oil suppliers and distributors. As many companies operate their own filling station on their premises, tank fillings are requested from different providers with phone calls. This will help increase transparency and accelerate the ordering process, FleetBoard says.
In collaboration with BLG Logistics Group, the SMARGO pilot is an open-based platform the can map the real-time data of an order. Currently, this is processed in hardcopy leaving drivers to be responsible for a variety of documents, data sheets, passes and permits. In the future, truck drivers will be able to keep track of all this information in digital form speeding up the process.
In development is the FleetBoard Vehicle Lens app that uses live image recognition to identify a truck's number plate. Currently, vehicles must undertake a series of pre-departure checks before setting off — such as checking lights, tires and warning lamps. This time consuming process will allow the information to be superimposed quickly and clearly in augmented reality.
Other AR programs include the FleetBoard HoloDeck project that with the help of a Microsoft HoloLens will project a number of 3-D projections on an abstract road map such as possible pathways, obstacles or environments. Fleet managers will be able to monitor vehicles in real-time in a three-dimensional landscape providing updates as needed.