Nanoionic-based radio frequency (RF) switches developed at NASA's Glenn Research Center are suitable for use in devices that rely on low-power RF transmissions, such as automotive systems, RFID technology, and smartphones. These switches operate at speeds of semiconductor switches, and are more reliable than microelectromechanical systems (MEMS) switches while retaining the superior RF performance and low power consumption found in MEMS, all without the need for higher electrical voltages.
Benefits of the reversible electrochemical switches relative to mechanically-based options include non-volatility, lack of moving parts that can fail, ease and efficiency of activation, and ease of fabrication.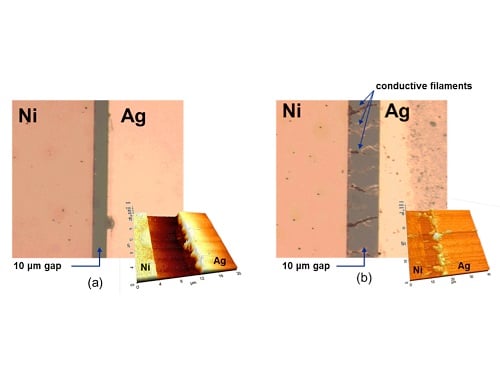 The nanoionic switch in an open state (left). The switch is closed when nanowires have grown enough to form an electrically conductive path between the electrodes (right). Source: NASA
Ions are formed at an anode and migrate into the solid electrolyte, while electrons are injected from a cathode and cause the growth of metal nanowires through the electrolyte from the cathode to the corresponding anode when a positive direct current (DC) bias is applied. Once a nanowire has grown sufficiently to form an electrically conductive path between the electrodes, the switch is closed and no electric power is needed to maintain the connection, unlike in a MEMS or semiconductor-based switch. The process of making the connection can easily be reversed by applying a negative bias, causing the wires to ungrow and the switch to open. The process time for making or breaking the connection is about a nanosecond.
The nanoionic material can be deposited in such a way to form multilayer control circuits, which has the potential to minimize circuit footprints, reduce overall circuit losses, and simplify integration. The switch is powered by 1 volt as opposed to 50 to 60 volts for microelectromechanical systems (MEMS), and uses conventional integrated-circuit fabrication techniques with as few as five processing steps.