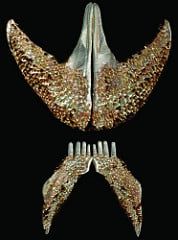 The fish's upper jaw is above and the lower jaw is below. Image credit: Kevin Conway and Adam Summers, University of Washington
The use of new technologies—CT scanning and 3-D printing—enabled scientists to identify a new species of clingfish. The scientists examined a specimen that was caught off Southern Australia in 1977 and preserved in the Western Australian Museum.
Clingfish interest scientists for their remarkable ability to stick to rough surfaces. These small—less than three inches long—fish use suction to attach to objects. The suction can support up to 150 times the fish's weight. Understanding how this stickiness works could lead to improved surgical instruments or tags for tracking marine life, among other applications.
A team including researchers from the University of Washington, Texas A&M and the museum noticed that the new species' teeth differ markedly from others in the genus. Only two known examples of the fish exist, both of them preserved as part of the museum's collection.
Declaring an organism to be a new species requires an intact specimen and detailed description of the organism. In this case, dissection was out of the question, so team members Kevin Conway of Texas A&M and Glenn Moore of the museum recruited Adam Summers (University of Washington) to perform a CT scan. Summers has a project to scan every fish species in the world.
The CT scan enabled the researchers to conduct a virtual dissection, confirming that the fish, subsequently dubbed Nettorhamphos radula, or duck-billed clingfish, is a new species. The fish possesses between 1,800 and 2,300 individual backward-pointing teeth, 10 times the number other known clingfish have.
Using the CT scan data, which is freely available through the Open Science Framework, the researchers used 3-D printing to produce larger-than-life models of the fish's mouth and jaw structures. See a 3-D rotational model here.