Using proteins and DNA, researchers at the University of Michigan (U of M) can coax semiconductor materials into spiral configurations. This breakthrough could lead to mass production of twisted semiconductors, which are necessary components of holographic displays.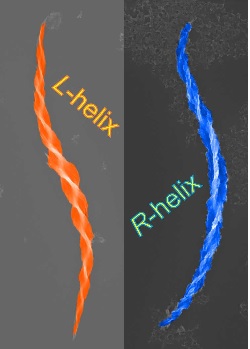 Colorized electron microscope images of a right-handed helix and a left-handed helix. Credit: Wenchun Feng, Kotov Lab, Univ. of MichiganHolograms—which were first demonstrated at the U of M in 1962—are encodings of a light field rather than images captured by a camera lens. Proper hologram encoding includes the direction and the timing of fluctuations in light waves.
Semiconductor helixes could provide the same kind of control, but the materials used to construct them resist twisting. The research team discovered that cysteine, an amino acid, can construct helical semiconductors from semiconductor nanoparticles.
The team fed nanoparticles of cadmium telluride to a large quantity of cysteine. The cysteine assembled spiral semiconductors, 98 percent of them twisted in the same direction.
Based on this initial work, the researchers developed a set of principles and methods for engineering the optical properties of semiconductor helices to produce different colors in future holographic devices.
The experimentation also provided a glimpse into the way life might have developed on earth. Nicholas Kotov, the lead researcher, speculated that amino acids might have assembled nanoparticles into spirals that in turn served as templates for biological helixes.