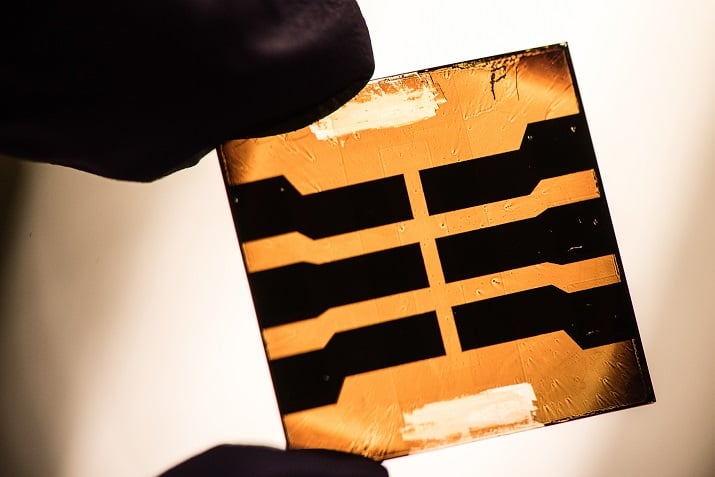 A quantum dot solar cell made of lead sulfide. Image credit: NREL
The maximum efficiency of Photovoltaic (PV) cells is limited by how much photon energy can be converted into usable electrical energy. However, excess photon energy normally is lost while generating heat when the cells can no longer absorb any further energy.
Scientists at the U.S. Department of Energy's National Renewable Energy Laboratory (NREL) have developed a way to push the efficiency of solar cells through the use of quantum dots and a process called Multiple Exciton Generation (MEG). Through this process, NREL was able to push the peak external quantum efficiency for hydrogen generation to 114 percent.
The development could boost the production from sunlight by using the cell to split water at a higher efficiency and lower cost and current photoelectrochemical approaches, researchers say.
How They Did It
NREL devised a cell based on lead sulfide (PbS) quantum dot photoanode that involves a layer of PbS quantum dots deposited on top of a titanium dioxide/fluorine-doped tin oxide dielectric stack. The chemical reaction driven by the extra electrons in the proof-of-principle project shows a possible new direction in exploring how to create high efficiency for solar cells, researchers say.
The MEG process uses the additional photon energy to generate more electrons and thus additional chemical or electrical potential, rather than generating heat. Quantum dots were used to enhance the MEG process.
The multiple electrons that are generated in the MEG process within the quantum dots are then captured and stored in the chemical bonds of a hydrogen molecule.