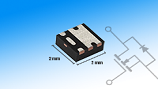 Vishay Intertechnology, Inc. has introduced a 30 V n-channel TrenchFET® Gen IV power MOSFET that delivers increased power density and efficiency for mobile devices, consumer electronics and power supplies. Offered in the ultra compact PowerPAK® SC-70 package, the Vishay Siliconix 
SiA468DJ
 reportedly provides the industry's lowest on-resistance and highest continuous drain current for 30 V devices in 2 mm by 2 mm plastic packages.
Measuring 60 percent smaller than devices in the PowerPAK 1212, the MOSFET is reportedly one of the most compact 30 V solutions available for DC/DC conversion and load switching for battery management in devices such as notebook computers, tablets, VR headsets and DC-DC bricks; H bridges in wireless chargers; and motor drive control for drones.
To reduce conduction loss and increase efficiency in these applications, the SiA468DJ features extremely low on-resistance of 8.4 mΩ at 10 V and 11.4 mΩ at 4.5 V. These values represent a 51 percent improvement over previous-generation solutions and a 6 percent improvement over the closest competing device. In addition, the MOSFET's low gate charge times on-resistance figure of merit (FOM) is optimized for a diverse range of power conversion topologies.
The SiA468DJ's 37.8 A continuous drain current is 68 percent higher than previous-generation devices and 50 percent higher than the closest competing solution. This high current rating adds a safety margin for applications that encounter high transient currents. The MOSFET is 100 percent RG-tested, RoHS-compliant and halogen-free.
Samples and production quantities of the SiA468DJ are available now, with lead times of 13 weeks for large orders.