A new AEC-Q101 qualified p-channel -100 V TrenchFET metal-oxide semiconductor field-effect transistor (MOSFET) introduced by Vishay Intertechnology Inc. is designed to increase power density and efficiency in automotive applications. Not only is the Vishay Siliconix SQJ211ELP the industry's first such device in the compact 5 mm by 6 mm PowerPAK SO-8L package with gullwing leads, but it features best in class on-resistance down to 30 mΩ at 10 V.
Compared to the closest competing devices in the DPAK and D2PAK packages, the automotive grade MOSFET delivers 26% and 46% lower on-resistance, respectively, while offering a 50% and 76% smaller footprint. The low on-resistance of the Vishay Siliconix SQJ211ELP translates into energy savings by reducing power losses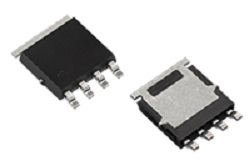 Source: Vishay Intertechnology Inc.from conduction, while its superior gate charge down to 45 nC at 10 V reduces losses from gate driving.
With high temperature operation to 175° C, the MOSFET provides the ruggedness and reliability required for automotive applications such as reverse polarity protection, battery management, high side load switching and LED lighting. In addition, the gullwing leads allow for increased automatic optical inspection capabilities and provide mechanical stress relief for increased board-level reliability.
The device's -100 V rating provides the safety margin required to support several popular input voltage rails, including 12 V, 24 V and 48 V systems. In addition, as a p-channel MOSFET, the SQJ211ELP enables more simple gate drive designs that eliminate the charge pump needed by its n-channel counterparts. Lead-free, halogen-free and RoHS-compliant, the MOSFET is 100% Rg and UIS tested.
Samples and production quantities of the SQJ211ELP are available now, with lead times of 14 weeks. Pricing for U.S. delivery only starts at $0.52 per piece.