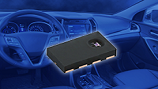 The optoelectronics group of Vishay Intertechnology, Inc. has unveiled a fully integrated automotive grade proximity and ambient light sensor for gesture recognition. Featuring Filtron™ technology, the Vishay Semiconductors
VCNL4035X01
combines photo detectors for proximity and ambient light, a signal conditioning integrated circuit, a 16-bit analog-to-digital converter, and a driver for up to three external infrared-emitting diodes in one compact 4 millimeter-by-2.36 millimeter-by-0.75 millimeter surface-mount package. The AEC-Q101 qualified sensor features an interrupt function and supports inter-integrated circuit (I²C) bus communication interface for portable electronics and smart home, industrial and automotive applications.
The device can be implemented to provide gesture recognition in consumer electronics such as notebooks and tablets; presence detection for display activation in printers, copiers, and automobiles; collision avoidance in toys and robots; and lighting control in offices, corridors, and public buildings. All the circuitry needed for these applications is included in one compact device to save printed circuit board (PCB) space, while its utilization of external emitters for gesture applications provides greater design flexibility.
A programmable interrupt function allows both high and low thresholds to be set to reduce the overall power consumption within an application. The function can be programmed to trigger both the ambient light and proximity sensor. The sensor's Filtron technology enables ambient light spectral sensitivity close to that of the human eye, while offering good background light cancellation capabilities. The device's high sensitivity allows for high object detection distances up to 500 millimeters.
The VCNL4035X01's built-in ambient light photo diode offers detection from 0.004 lux to 4.2 kilolux, allowing the device to operate in applications with dark or high-transparency lens designs. The sensor offers high accuracy of plus or minus 10 percent, fluorescent light flicker immunity, and temperature compensation from negative 40 C to positive 105 C. The VCNL4035X01's proximity sensor uses intelligent cancellation to eliminate cross-talk, while a smart persistence scheme ensures fast response time when an object is detected.
The sensor has a supply voltage range of 2.5 to 3.6 volts and I²C bus voltage range from 1.8 to 5 volts. It comes in a lead-free 8-pin quad-flat no-leads package and is restriction of hazardous substances directive-compliant and halogen-free.
Samples and production quantities of the sensor are available now, with lead times of eight to 12 weeks for large orders.