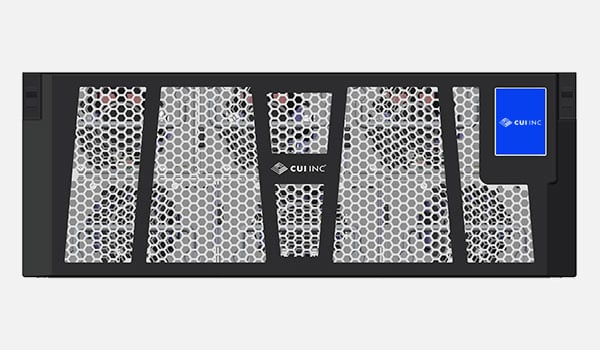 Expanded data center capacity is to purveyors of Cloud computing what a bigger French fryer would be to McDonald's. Even though existing data centers often exhaust power before running out of space, adding power can be both time consuming and expensive. To implement what it calls Software Defined Power, CUI has partnered with Virtual Power Systems (VPS) to bring intelligence to power supply design in a data center infrastructure via its Intelligent Control of Energy ("ICE") technology. Their strategy is based on the fact that deploying power infrastructure for peak loads leads to unusable capacity because the peaks occur infrequently. ICE uses stored energy in the form of batteries to eliminate the peak draw and unlock the additional capacity for IT use, bringing the benefits of elastic power to data centers.
At APEC 2017, CUI noted that ICE now includes a new Switch product that the company claims further unlocks power capacity for its customers, allowing them to install additional racks in existing data centers and new data centers under construction.
Redundancy is built across the 2N data center, constructed on a 100% redundancy premise to deliver a highly available mission critical infrastructure. Though they are successful in doing so, they operate on the questionable assumption that all workloads are mission critical. But they may not be; for example, 20-30% of servers could be Dev/Test workloads. If this is the case, you have blocked some power capacity as unnecessarily unusable. ICE enables the data center to trade electrical redundancy on lower Service Level Agreement (SLA) racks to provision more racks or IT equipment.
In a 2N redundancy, both power feeds, A and B, feed to, say, a 400kW peak demand (200kW on each feed). If one feed fails, the other takes over for the full 400kW peak load. If an additional 100kW is added as lower priority racks, peak demand reaches 500kW. There is no problem when both Feed A and Feed B are active. However, a failure scenario with either Feed A or Feed B creates a 100kW shortfall in a traditional setup.
When Feed A fails, the complete 500kW load shifts to Feed B. When ICE manages this failure scenario, low priority racks can be instantly turned off, using an ICE enabled switch at the racks keeping the load on Feed B at 400kW. ICE batteries sustain low priority racks for a configurable amount of time, before shutting them off. This allows time for a managed shutdown of racks or to enable workload migration, to transition the workload to safe racks.