The U.S. Tank Automotive Research Development and Engineering Center (TARDEC) and AM General have entered into a partnership to develop and demonstrate an autonomous driving vehicle for the future of military transportation.
Under the Applied Robotics for Installation and Base Operations (ARIBO) initiative, which allows civilian robotics technology to be examined in vehicles in a semi-controlled environment, the vehicle under development will be demonstrated this spring at the U.S. Military Academy at West Point. The ARIBO program aims to advance military robotics while addressing the needs of U.S. military bases through next-generation technology.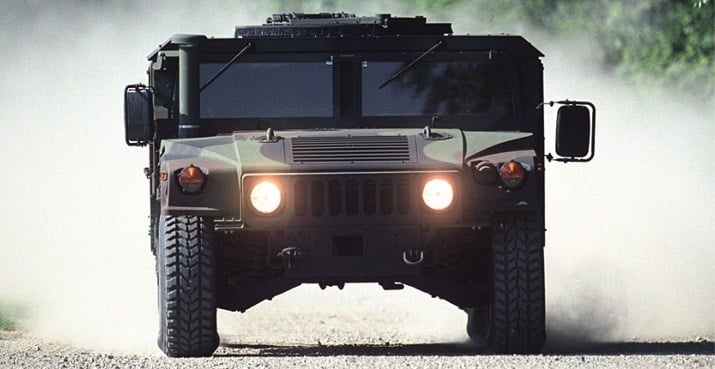 AM General, the company that created the original Humvee, will test an autonomous vehicle technology to change how military bases operate. Source: AM General AM General, the company that created the ubiquitous High Mobility Multi-Purpose Wheeled Vehicle (HMMWV or Humvee), says the development could revolutionize how soldiers, sailors, airmen and Marines—as well as the equipment and supplies—are transported inside U.S. military facilities.
The initiative is suited for use at West Point Academy's existing transportation system that includes a shuttle service that transports cadets and other military personnel to and from the Academy hospital. "Imagine what having a fully autonomous wheelchair accessible vehicle would mean to individuals with disabilities," says Kevin Rahrig, executive VP at AM General. "This partnership with the Army could be the first step in transforming transportation for millions of people."
The West Point test will examine vehicle safety, performance and reliability, acceptance of robotic technologies by government users and non-users, time and money savings, energy efficiency and navigation and mapping ability.
The test will not just demonstrate an autonomy kit, but will also highlight how the idea of robotics can be used for both military and civilian use.
"The best robotic systems in the world will not find traction until users are comfortable with the systems," says Alex Jimenez, project leader for TARDEC's ARIBO program. "West Point is a prime location to address the acceptance aspect of robotics by having future Army leaders see and experience these robotics first hand."