Artificial skin developed at University of Glasgow, Scotland, for prosthetic and robotic applications is not only touch-sensitive but self-powered. The researchers previously used graphene to build a pressure-sensitive electronic skin for prosthetic hands, and now have exploited the optical transparency of graphene for power generation.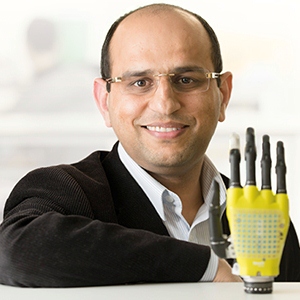 Dr. Ravinder Dahiya displays transparent tactile skin. (Source: University of Glasgow)
This property of graphene allows around 98% of incident light to pass directly through it, which makes it a viable solar energy collector. A photovoltaic cell placed underneath a graphene-based transparent tactile sensitive layer generates sufficient electricity to power the synthetic skin, which consumes only 20 nW/cm2.
The resulting skin can make sensitive pressure measurements because a transparent polymeric protective layer, spin-coated on the sensor's active area, renders the coplanar capacitor sensitive to touch. The structure was demonstrated to detect minimum pressures of 0.11 kPa.
The researchers are now devising methods for storing unused photovolatic power produced in batteries or supercapacitors so that energy will be available on demand.