A viable solid polymer-based electrolyte promises to eliminate the problem of flammable lithium-ion batteries. This new material could lead the way to improved battery design.
The liquid electrolyte used in existing batteries is a particular focus area for battery developers. These substances have several disadvantages, including instability in higher temperatures and their well-documented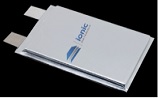 Pouch battery. Credit: Ionic Company predilection for catching fire. Replacing the liquid with a stable solid electrolyte could eliminate these issues.
Research led by Michael Zimmerman of Tufts University, who has worked on developing a solid electrolyte for 30 years, has resulted in a polymer material that exhibits the required properties for electrolytes: high voltage stability, the ability to function as the cathode electrolyte with high active material loadings and the necessary mechanical properties.
Ionic Materials, Zimmerman's spinoff company, is developing a prototype battery that incorporates the novel polymer. The company has demonstrated solid-state pouch cells with composite LCO (lithium cobalt oxide) and NCM (nickel manganese cobalt) cathodes that function at room temperature.
Batteries that incorporate the new polymer are expected to be safer, longer lasting and cost-effective. Potential applications range from consumer electronics to electronic vehicles.
Ionic Materials researchers are exploring different battery chemistries, including lithium-metal anodes, high-voltage-intercalation cathodes and sulfur-conversion cathodes, as well as a proprietary system.