3-D printing has yet to enter the realm of mass production. Instead, most manufacturing done in small batches or one-off parts for an order from an individual customer.
But Brooklyn-based start-up Voodoo Manufacturing is looking to change all that with what it claims is the first fully functional robot-operated 3-D printing cluster that combines nine 3-D printers being operated by a robotic arm.
The goal of Voodoo's "Project Skywalker" is to ease the labor costs involved in 3-D printing, which usually requires a human presence in order to make in-the-moment decisions or move projects along that are ever-changing. However, the project is also aimed at taking modern manufacturing to the next level, using a different set of capabilities to produce the same goods and open up a wide range of innovation opportunities.
Voodoo began looking at how to best go about mass manufacturing 3-D printed objects by deciphering what would be the easiest to automate and would have the biggest impact on labor requirements, while at the same time benefitting the business to take it to a mass production level.
The first step would be to automate the harvesting step—or the process of removing a printer's build plate after a completed build, and replacing it with a new clean build plate for the next print. To do this, the company turned to Universal Robots' UR10 robotic arm as the method of automation, which has a low price point, yet pairs precision and payload capacity sufficient for the job at hand.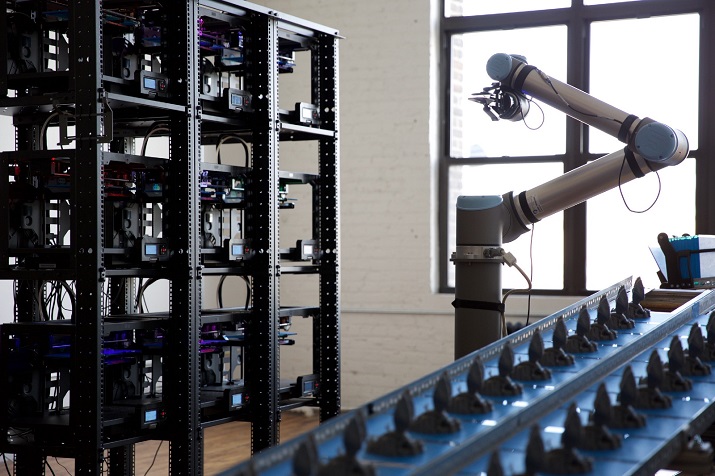 Using a robotic arm, Voodoo Manufacturing created an automated 3-D printing cluster of nine 3-D printers working simultaneously. Source: Voodoo Manufacturing The collaborative robot provides, not only, safe interaction with humans, but it is less bulky and expensive than other powerful machines. Instead of building an entire factory with caged-off areas and hazardous possibilities, the UR10 allowed Voodoo to work in a relatively smaller area, with a friendlier workplace environment.
"Project Skywalker" consists of nine 3-D printers mounted to server racks, a track where the UR10 robot could deposit harvested plates to eventually be collected by an employee, and a custom-build plate "hopper" that would feed new, clean plates to the robot. Using internally developed software, Voodoo can notify the arm when a print finishes on a given printer, and receive a notification after the arm successfully places a new plate on a printer, which then begins a new printing job.
Voodoo tested the 3-D printing cluster after a number of cycles, and even left it printing overnight. The next morning, 30 successful prints for an actual production job were completed. Voodoo says using the robot-operated printing cluster increased output by three times compared to the production printers sitting in its factory.
Future production methods could include using a single robotic arm to tend to about 100 printers in Voodoo's factory. The company says using the robot arm system purely for the harvesting step of its process would increase the current 40 printers per employee ratio to about 400 printers per employee. Voodoo also believes the robotic arm would pay for itself within a three month period.