Makers, hobbyist, tinkerers, and "do-it-yourselfers," can rejoice. Many challenges that accompany robot building are being eliminated with just a printer. Additive manufacturing, more commonly known as 3D printing, offers a plethora of ways to build your own robots right from home, and you do not even have to be an engineer to take part in the process.
Research indicates that the total revenue for the 3D printing industry is expected to grow by nearly 40% each year through 2020, and the benefits are trickling down to the ordinary man trying to build his own robot.
In order to understand how 3D printing is really changing the art of at-home robot development, you will need to take a trip back in time, to the dawn of robotics, and look at how far we have come.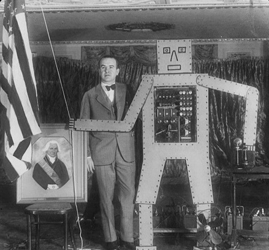 Televox robot. Image Credit: MakerBotRobots have been around for some time now and with functions and uses that are not much different than they are today. The concept of robots has been mentioned as far back as the ancient Hebrews, referred to as beings called "golem" that were developed to assist with menial labor tasks. Even LeonardoDa Vinci was drawing up designs for mechanical knights back in the 1400s. However, the term "robot" was not actually used until the 1920s.
The first robots were nothing like today's, of course, but still incredibly advanced.
For example, Westinghouse released the Televox robot in 1927—a machine capable of answering the phone and running a few simple processes, much like a computer.
Once digital computing took off, it was sure to be a robotics game changer that allowed engineers to implement electronic brains into their machines. In 1961, General Motors released the Unimate, the first autonomous, pre-programmed robot that employed electronic brains.
Now there are varieties of robots that can do almost anything: work in factories, possess reasoning skills, cook, clean, and even perform surgery. But how can the "Average Joe" make one?
Previous methods for DIY robots
Up until recently, enthusiasts looking to make their own robots did have quite a few options—but were they the simplest and least costly method? Pretty much anyone can frequent an online shop and design customized robotics parts such as wheels, bushings, chassis, brackets, arms and motor mounts. Once designed, a company can craft your unique parts. Some companies such as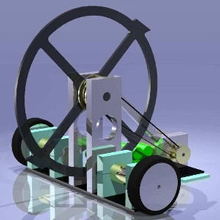 Image Credit: eMachineShopeMachineShop offers a service that lets you design custom metal and plastic parts using free CAD software and even print custom circuit boards. These services employ traditional methods such as CNC milling, turning, bending, drilling and laser and waterjet cutting.
Another option would be to purchase a fully assembled robot that could be programmed right out of the box or, for more serious enthusiasts, a kit that allows you to assemble the robot yourself.
The shift to 3D printing
As the 3D-printing craze continues, many makers have opted to purchase their own 3D printers from online consumer websites such as Amazon and create robots right from home. 3D printing allows for the design of personalized configurations that are not restricted by third parties and simplifies the robot-construction process by eliminating the need for off-the-shelf parts, as well as reduces costs.
Some 3D printer companies that you may have heard of include consumer and industrial names such as MakerBot, Stratasys, and recently Hewlett Packard. The HICTOP Prusa 13 3D Desktop Printer is priced under $400. You will also find a variety of mid-range printers like the FlashForge 3D Printer Creator Pro for $1,200 or a pricier MakerBot model in the upper $2,000 price range. The point is, it is not difficult to get your hands on the equipment needed to create your own robots anymore.
Cubify, manufacturer of the Cube 3D Printer, even offers design software for advanced modeling projects while MakerBot offers designers the Thingiverse community where they can collaborate to make 3-D printable things. Thingiverse provides numerous designs for robotic parts such as a wheel-leg for robot locomotion, soft grippers for industrial robots and water oscillators.
Let's not forget that 3D-printed robots still require some additional resources. Robots comprise a variety of parts such as batteries, sensors and software that still need to be purchased elsewhere, so you will probably have to break out some additional, non-printable workings. However, the bulk of robotics projects can now be created right in the comfort of your own home.
So if you are interested in playing with robots at home, you will have to consider your options, but you may decide that the 3D-printing craze is not so crazy after all—it may just bring robots right within your reach.