Wolfspeed, A Cree Company and developer of silicon carbide (SiC) power products, announces E-Series™, a new family of robust SiC semiconductor devices for the Electric Vehicle (EV) and renewable energy markets that delivers the highest available power density and durability for on-board automotive power conversion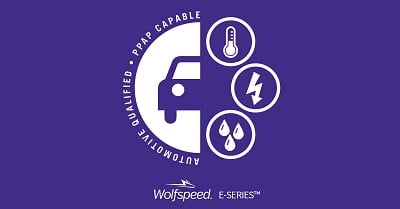 Source: Creesystems, off-board charging, solar inverters and other outdoor applications. Wolfspeed's E-Series family is the first commercial family of SiC MOSFETs and diodes to be automotive AEC-Q101 qualified and PPAP capable. The designation makes it the only commercially available family of SiC MOSFETs and diodes that meet high-humidity and automotive qualifications to deliver some of the most reliable and corrosion-resistant components in the power market today.
With the new automotive-qualified SiC MOSFET, Wolfspeed becomes the first and only silicon carbide semiconductor manufacturer to offer a complete family of qualified parts to the EV market. The portfolio expansion also enables Wolfspeed to supply power conversion components within an EV for an end-to-end solution.
The E-Series family includes the following:
The new E-Series SiC MOSFET is the only automotive AEC-Q101 qualified, PPAP capable and humidity resistant MOSFET available in the industry. It features Wolfspeed's third generation rugged planar technology, which has more than 10 billion field hours. Offering the industry's lowest switching losses and highest figure of merit, the E-Series 900V MOSFET is optimized for use in EV battery chargers and high voltage DC/DC converters and is featured in Wolfspeed's 6.6kW bi-directional on-board charger reference design.
The new E-Series Merged-PIN Schottky Diodes (MPS) deliver high reliability for onboard power conversion systems and solar inverters, complementing Wolfspeed's existing AEC-Q101 qualified 650V SiC diode portfolio. The diodes deliver a 1200V blocking capability with a current rating up to 20A at a TJ,Max = 175⁰C. Reference designs for the E-Series diodes are available here, including Wolfspeed's 20kW Two-Level AFE and DC/DC converter for off-board chargers, which delivers more than 30 percent reduction in power loss when compared to existing three-level Vienna rectifiers.
The E-Series family also addresses the key challenge in designing and maintaining solar power systems: finding products that can withstand extremely harsh environmental conditions while maintaining peak performance. Since corrosion caused by humidity is a major consideration when designing outdoor power systems, the key qualification for harsh environments is the HV-H3TRB rating (also known as HVDC THB or THB80). The HV-H3TRB qualification testing was performed at 80 percent of the rated blocking voltage in an environmental chamber at a constant 85⁰C ambient with 85 percent relative humidity. Both the E-Series MOSFETs and diodes are HV-H3TRB rated, which means they are optimized for use in solar inverters and other outdoor systems as well as EVs.
Visit http://www.wolfspeed.com/e-series for more complete technical information about Wolfspeed's new E-Series products. Visit http:// www.wolfspeed.com/power for additional information about Wolfspeed™ power products.