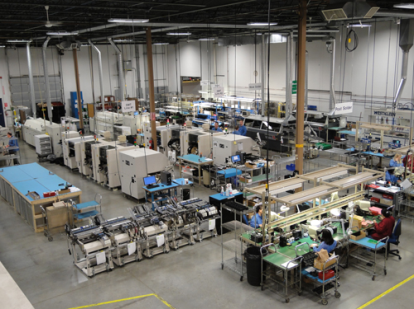 Sponsored content
Twentieth century factory preventative maintenance had become a finely tuned, empirically generated series of time- and date-centric events to keep factory equipment up and running. Time to failure records for different pieces of equipment created quite extensive periodic maintenance regimens. Many of us recall the multiweek summer factory shut downs where most workers were sent off on vacation, except for maintenance crews and rookies without vacation who stayed to perform a good chunk of the yearly periodic maintenance. These shut downs minimized negative effects on production output rates, but may have introduced higher task frequency than was necessary.
Machine maintenance via periodic scheduling has given way to continuous machine monitoring that allows facilities engineers to "listen to" machines for signs of impending failure, triggering a repair or rejuvenation. By taking this approach, unnecessary maintenance efforts are minimized, thus reducing cost and increasing uptime. Predictive maintenance has evolved to include many different observation and monitoring techniques. These advanced techniques include sonic/ultrasonic monitoring, which analyses variations in aural signal from running equipment. Vibration analysis uses sensors mounted on the machine to detect changes in rotating signatures that may indicate bearing wear. Thermal imaging allows one to scan and display the equipment's temperature; hot running sections bring attention to possible failure points. Fluid analysis checks the dielectric, lubricative, or other properties of working fluids for breakdown and loss of effectiveness.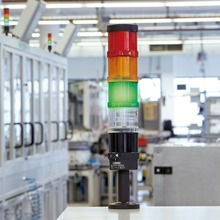 These condition monitoring tools find defects not found through regular inspections methods while the machine is in normal operation. Computerized maintenance management systems (CMMS) gather information from these condition monitors for processing and comparison to pre-determined target ranges for optimal operation. Defective equipment may be addressed and unplanned machine downtime can be minimalized.
Today, condition monitoring can be incorporated into other components of machine subsystems. Power supply units (PSUs) can now be monitored and programmed to look for variations in power draw that may indicate impending failure of a rotating or other moving component that requires energy. For instance, as a bearing begins to wear, it requires more power for the motor to turn the shaft mounted in the bearing. As power monitoring systems become more sensitive, power monitoring programs can be accurately used as diagnostic, evaluative, or proactive monitoring tools.
The newest generation of Quint power supplies from Phoenix Contact gives control engineers improved configuration and diagnostics to provide preventive function monitoring, which warns against problem operating states. Comprehensive diagnostics are provided through constant monitoring of the output voltage and output current. This preventive function-monitoring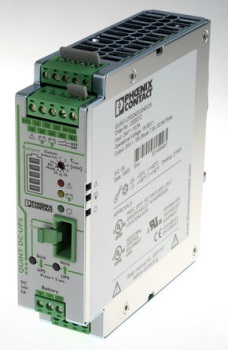 visualizes critical operating states and reports them to the controller before errors can occur. Remote monitoring is provided by means of active switching outputs and floating relay contacts.
The Quint PSU system monitoring works via three signal outputs provided: digital, analogue, and relay. The following outputs can be monitored: voltage, current, power, hours of operation, and temperature. Thresholds can be set for critical values, as well as a pre-warning level. This preventive function monitoring indicates critical operating states before errors and failures occur. An informative video about using Quint power supplies for predictive maintenance can be viewed here. Quint PSUs offer several additional advantages when evaluating power supplies for your application. These advantages include an near field communication (NFC) interface to customize signaling thresholds and characteristic curves and selective fuse breaking (SFB) technology that gives the power supply and DC/DC converter supply several times the nominal current for a short period, thereby providing the necessary power reserve. Other features include static and dynamic boost, electrical and mechanical robustness, and adaptability to various applications.
Further information about Phoenix Contact and Quint Power Supplies information can be accessed at the RS Components website. For building, workshop, and production lines, it's essential to have an effective maintenance program to keep your plant operational. RS Components offers a wide range of tools and equipment to support your planned and emergency maintenance needs.
The videos below supply an introduction to the new Quint4 smart PSU for industrial and preventative maintenance applications.