MarketsandMarkets, a thought leader and one of the world's fastest growing research firms, has reported the top 10 semiconductor and electronics trends for 2017.
According to the firm, 2017 is set to be an exciting one for the semiconductor and electronics industry, with new advancements that will focus on new experiences and possibilities for end users and organizations.
here are several key trends, according to MarketsandMarkets, that would be an indicator of the future of the semiconductor and electronics industry. These trends are segregated into categories wherein they can deliver better experiences, enable faster decisions, and facilitate improved communications.

Take a peek at the firm's infographic portraying the top 10 trends.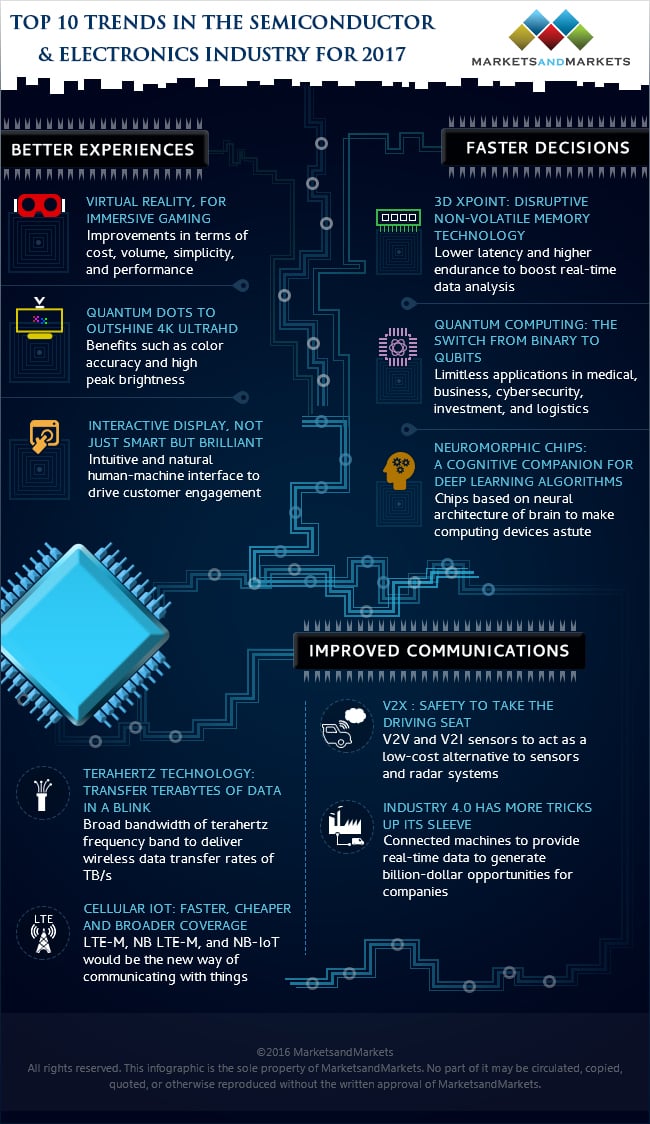 Infographic via MarketsandMarkets
Better experiences: With virtual reality and augmented reality technology taking shape, end users can hope for more immersive experiences across a number of devices. Furthermore, technologies such as quantum dots are expected to bring screen clarity, peak brightness and accuracy to a whole new level, beyond even 4K UltraHD. Finally, the evolution of intuitive interface systems would make the experience with newer devices seamless and thoroughly engaging.
Faster Decisions: The advent of new memory technologies such as 3D XPoint will blur the lines between storage and memory even further, leading to lower latency and higher endurance. Quantum computing would bring about a paradigm shift in the computing prowess, opening up vistas for newer applications in business, cybersecurity, investment, and logistics. Neuromorphic chips for deep learning algorithms will help make artificial intelligence more accessible for mainstream applications.
Improved communications: Connected cars and V2V and V2I sensors will take automotive design to a whole new level. Besides, connected machines could open up new possibilities and opportunities for vertical integration between various industries as cellular bandwidth moves past the terahertz barrier.
"The semiconductor and electronics space today is a highly competitive one. We are seeing manufacturers think out of the box, challenge design conventions, and work toward bringing out something new that we could never have imagined before," said Jagdish Rebello PhD, Global Vice President, Semiconductors and Electronics, MarketsandMarkets.

More Information:
Register here to download a free white paper on these top 10 trends
Click here to view the original infographic.