A recent study by researchers led by Lukas Bereuter, a cardiologist from the Bern University Hospital in Switzerland, has determined that implanting photovoltaic (PV) cells under the skin of patients would be a viable method for keeping medical implants such as pacemakers or brain stimulators in continuous operation. If the results of the research can produce a real device in the future, then the PV cell can keep the implanted devices in use without the need to recharge its battery or to subject the patient to periodic surgery to replace the battery or the implanted device.
Surgical intervention to replace the battery or the electronic implant device when the battery has been totally damaged (depleted) is a common procedure nowadays; it is, however, expensive and it puts the patient at risks of acquiring an infection or some other medical complication. A self-harvesting power source, such as a PV cell, can also allow reducing the size of the implant given that it does not have to contain the battery. This, in turn, will lower the cost of the electronic implant.
A subcutaneous PV cell can produce electric power by absorbing the small fraction of sunlight that can penetrate the human skin. The researchers needed to determine how much power such an arrangement can produce. If the fraction of light reaching the PV cell is not enough to produce around 10 microwatts (uW) of power—the typical power needed to operate a pacemaker—then the subcutaneous cell would be useless.

Block diagram of the measurement device showing the ambient light (1), which is attenuated by optical filters (2) that mimic the optical properties of human skin. The attenuated light (3) irradiates the solar cells (4), which are connected to a maximum power point tracker (7). The solar cells' output power is monitored by a current- and voltage-measurement circuit (5, 6). A microcontroller (8) controls the measurement and stores the data onto a memory card (9). Credit: Lukas Bereuter
The team of researchers designed a measuring device to continuously monitor the output of the PV cell. Thirty two volunteers were recruited for the study. The volunteers wore the device as a bracelet over several months throughout the year. To simulate that the PV cell was placed under the skin, optical filters were used to cover the PV cells. These optical filters were designed to have similar optical properties as human skin. The attached figure is a block diagram of the measuring device.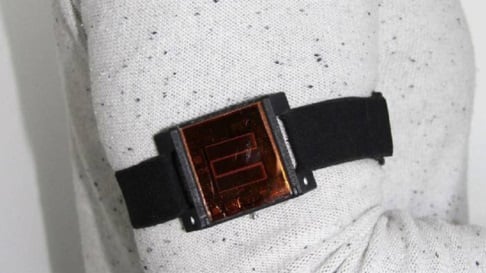 The measuring device bracelet being used by a volunteer. Credit: Lukas Bereuter
The size of the PV cell used was only 3.6 square centimeters. The results are encouraging. The volunteers showed that the average power output of the cells exceeded the required power to operate most electronic implants. The lowest reading among the participants was 12 uW, more than enough power for a typical pacemaker. For a cell of such a small size, the output power is remarkable. The mean power produced by the volunteers was 67 uW.
The full article ("Energy Harvesting by Subcutaneous Solar Cells: A Long-Term Study on Achievable Energy Output") was published in January 2017 in the Annals of Biomedical Engineering (2017); it can be found here: http://link.springer.com/article/10.1007%2Fs10439-016-1774-4