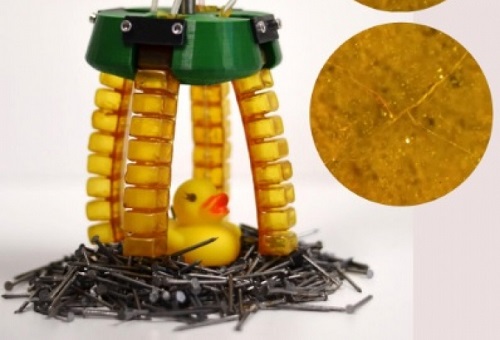 Soft robots that are built to heal much the way a human heals. Source: VUB
The human body has an amazing way to heal from injuries over time. Cut your hand, tear a muscle, break a bone and it typically returns to normal use over the course of time and treatment.
Now, researchers at Vrije Universiteit Brussel (VUB) in Belgium are applying this same principle to soft robots developing mechanisms for these machines to self-heal.
Soft robots are made of flexible materials that allow these machines to be used for numerous applications to grab delicate and soft objects in the food industry, during minimally invasive surgery or used in rehabilitation and arm prostheses. However, because they are made of soft materials, they are susceptible to damage caused by sharp objects or excessive pressure. These damaged components must be replaced or simply thrown away.
Researchers at VUB believe the new method enables soft robots to completely heal from such damage. The robots are made of rubbery polymers with built-in healing capacity, and, when damaged, the materials first recover their original shape and then heal completely.
The principle was applied to three robots: a gripper, a robotic hand and an artificial muscle. Under controlled conditions, these pneumatic components were damaged to test if the principle works in practice. The results were that the realistic damage could be healed completely without leaving any weak spots. After healing, the prototypes resumed their tasks.
"The outcome of the research opens up promising perspectives," says Prof. Bram Vanderborght, a researcher at VUB. "Robots can not only be made lighter and safer, they will also be able to work longer independently without requiring constant repairs."
The full research can be found in the journal Science Robotics.