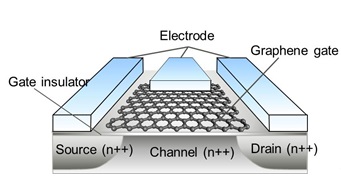 Fujitsu Laboratories has developed a
gas sensor
that promises unprecedented sensitivity and measurement speed. These performance improvements stem from a new approach that side-steps shortcomings found in today's conventional sensing approaches.
Currently engineers can take highly sensitive measurements using specialized systems such as chromatographs, but these systems are large and their measurement processes often require too much time. Semiconductor gas sensors, on the other hand, offer small form factors and work in real-time. Unfortunately their sensitivity is generally measured in parts per million—too low to detect many gas components.
Fujitsu has out-performed existing technologies by replacing silicon transistor gates with sheets of graphene. When a gas molecule adheres to the graphene, the graphene's functionality changes, significantly modifying the switching characteristics of the silicon transistor. This enables the device to detect gas.
Some developers have proposed designs that measure the change in resistance across the graphene when a gas adheres to the carbon material. Unfortunately resistance varies too little in the presence of one-part-per-million concentrations of gases. This performance cannot meet the needs of many real-world applications.
Fujitsu's sensor, on the other hand, easily delivers the performance required. Tests have shown that the company's sensor can detect concentrations lower than tens of parts per billion (ppb) of nitrogen dioxide and ammonia, while improving nitrogen dioxide sensitivity tenfold (less than 1 ppb).
The company's engineers expect the new design will open the door for a new breed of sensors that can measure very low levels of specific gas components on a ppb scale. This will provide scientists with portable instruments capable of measuring air quality and detecting air pollution. The same technology promises to help healthcare workers and simplify detection of gas components in breath, enabling them to quickly discover lifestyle diseases such as atherosclerosis, diabetes, and alcohol and drug abuse.